A-dro dhe'n awtour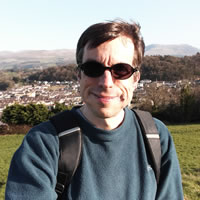 Ow hanow yw Simon Ager. Trigys ov yn Bangor yn Kembra ha my a dhendyl ow bewnans dre an wiasva ma. My a dheu dhyworth Lancashire yn north-west Pow Sows, ha trigys re beuv yn Pow Frynk, Taiwan ha Japan.
An tavosow re'm dynyas hedra vo kov dhymm anedhans, ha my re studhyas lies anedhans. Ow mammyeth yw Sowsnek, ha my a yll kewsel Mandarinek, Frynkek, Kembrek, Wordhenek, Godhalek, Manowek, Almaynek, Spaynek, ha Japonek, moy po le. Y'm beus godhvos selyek ynwedh a Taiwanek, Kantonesek, Esperanto, Italek, Portyngalek, Chekek, Russek, Bretonek, Iseldiryek, ha BSL.
Moy manylyon a'm anethow dyski tavosow.
Wosa'n tavosow yth yw an ilow ow passyon chif vy - my a gan yn lies keur ha bagas aral, komposya kanow, seni daffarow ha dos yn fenowgh dhe wolyow ilow. Yth yw da genev an redya ha juggling ynwedh
Ha my ow kewsel, y'n kas yma hwans dhis dh'y wodhvos, leveryans ow hanow teylu, Ager, yw /'eɪgə/. Dell hevel y teu ev dhyworth an hanow sowsnek koth Ēadgār.
Ty a yll skoodhya Omniglot yn unn wul rians dre PayPal:
Donations can be made in UK pounds
Cornish version by John Sheridan, with amendments by Philip Newton. The spelling is SWF (Standard Written Form).
Information about Cornish | Phrases | Numbers | Kinship terms | Telling the time | Tower of Babel | Learning materials
About me in other languages
About this site | Omniglot - a potted history | About me | My language learning adventures | My singing adventures | My songs | My tunes | My musical adventures | My juggling adventures