Kdo jsem?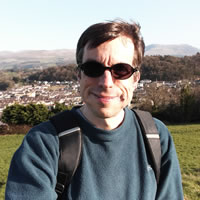 Jmenuji se Simon Ager, bydlím v Bangoru ve Walesu a tento web je hlavním zdrojem mých příjmů. Původně pocházím z Lancashire na severozápadě Anglie a žil jsem, pracoval a studoval v mnoha různých zemích (např. ve Francii, na Tchaj-wanu, v Japonsku a Irsku).
Jazyky mě fascinovaly odjakživa. Docela dost jsem se jich i učil, i když s různou úspěšností. Mandarínskou čínštinou, francouzsky, velšsky a irsky mluvím v podstatě plynule, bez větších problémů se dorozumím i německy, španělsky, japonsky, skotskou gaelštinou a jazykem manx, umím číst a porozumět italštině, portugalštině a esperantu a mám základní znalost češtiny, tchajwanštiny, kantonské čínštiny a v britské znakové řeči.
Moje zážitky při studiu různých jazyků.
Kromě jazyků také rád zpívám, hraju a poslouchám hudbu, čtu knihy, plavu bruslím, jezdím na kole a žongluji, a mám zájem o archeologii a zoologii.
Mimochodem, pokud by vás to zajímalo, moje příjmení, Ager, se vyslovuje v mezinárodní fonetické abecedě IPA /'eɪgə/ a v SAMPA /'eIg@/. Jeho původ lze dohledat v germánském jméně Ēadgār - "ēad" znamená "bohatý, požehnaný, šťastný" a "gār" znamená "kopí, šíp, zbraň".
Pokud byste chtěli omniglot podpořit, můžete tak učinit přispěním přes PayPal:
Donations can be made in UK pounds
Nebo můžete tento web podpořit jinými způsoby.
Translated into Czech by Petr Felčer and Jan Jurčík, with corrections by Petra Pecharová
Information about Czech | Phrases | Weather | Idioms | Tongue twisters | Tower of Babel | Learning materials
About me in other languages
About this site | Omniglot - a potted history | About me | My language learning adventures | My singing adventures | My songs | My tunes | My musical adventures | My juggling adventures