Tentang Penulis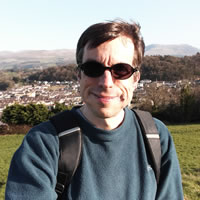 Nama saya Simor Ager. Saya tinggal di Bangor di Wales dan berpendapatan utama dari situs web ini. Saya berasal dari Lancashire yang terletak di barat laut Inggris, dan saya telah tinggal, bekerja, dan/atau belajar di beberapa negara, antara lain Prancis, Taiwan, Jepang, dan Irlandia.
Saya sudah tertarik pada bahasa sejak lama dan saya telah mempelajari beberapa bahasa hingga tingkat kemahiran yang berbeda-beda. Saya fasih berbahasa Mandarin, Prancis, Wales, and Irlandia; saya dapat menggunakan bahasa Jerman, Spanyol, Jepang, Gaelik Skotlandia, dan Manx; saya dapat membaca dan memahami sebagian dari bahasa Italia, Portugis, dan Esperanto; dan saya mengetahui sedikit bahasa Ceko, Taiwan, Kanton, dan Bahasa Isyarat Britania (BSL).
Keterangan lebih lanjut mengenai petualangan saya belajar bahasa.
Selain bahasa, saya juga suka bernyanyi, bermain dan mendengarkan musik, membaca, berwisata, berenang, berseluncur es, bersepeda, bersepeda roda satu, dan juggling, dan saya tertarik pada berbagai ilmu dari arkeologi hingga zoologi.
Jika Anda penasaran, nama belakang, Ager, saya dilafalkan /'eɪgə/. Nama itu tampaknya berasal dari nama Saxon "Ēadgār": "ēad" berarti "kaya, diberkati, bahagia" dan "gār" berarti "tombak, panah, senjata".
Anda dapat membantu Omniglot dengan cara menyumbang melalui PayPal:
Donations can be made in UK pounds
Anda juga dapat membantu situs ini dengan cara-cara lain.
Translated into Indonesian (Bahasa Indonesia) by Pangus Ho
Information about Indonesian | Phrases | Numbers | Tower of Babel | Articles | Learning materials
About me in other languages
About this site | Omniglot - a potted history | About me | My language learning adventures | My singing adventures | My songs | My tunes | My musical adventures | My juggling adventures