'Keen ik bün?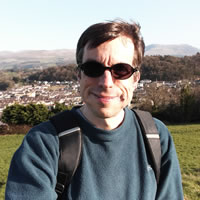 Heten do ik Simon Ager. Wahnen do ik uptünns in Bangor, Wales.
Wat ik mi besünners för intresseern do, dat sünd Spraken un Spraakwätenschupp, un up düsse Rebeden heff ik 'n Barg lääst. Mien Moderspraak is Ingelsch. Fransch un Düütsch heff ik an de Reaalschool lehrt, Chineessch un Japaansch an de Universiteet, un 'n Barg annere Spraken heff ik mi sülven bibröcht. Upstünns is buten dat Ingelsche mien beste Spraak dat Mandarin-Chineessche, un Walisisch, Iersch, Fransch, Düütsch un Spaansch kaamt ook nich all to wied achter ran. Un nu lehr ik ook noch Tschechisch.
Wat mehr ver mien Lehrn vun Düütsch un annere Spraken kriegt Ji hier to läsen.
Läsen do ik geern, ook Musiek höörn, kiek mi geern Filmen an, spääl düt un dat Musiekinstrument, mag geern singen, reisen, inlineskaten, twee- un eenradfahrn un jungleern, un 'n paar malle Zirkus-Spijöken maken, dat seggt mi ook to.
Donations can be made in UK pounds
Low Saxon ("Low German") translation by Reinhard (Ron) Hahn
Information about Low German | Phrases | Numbers | Telling the time | Tower of Babel
About me in other languages
About this site | Omniglot - a potted history | About me | My language learning adventures | My singing adventures | My songs | My tunes | My musical adventures | My juggling adventures