Abutan Mec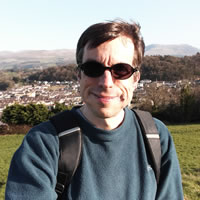 Mín nama Simon Ager sy, ic libban in Bangor in Wales ac geearnian mīn līfbrycung fram þās flohtensteall. Ic fram Lancashire in norþ west Angelcynn cuman, ac hab libban, gewyrcan ac / oþþe hycgan in Scotland, Francland, Taiwan, ac Japan.
Geþēode me feohgafel habban fore geond ic gemyndgian ac ic eall feawe hīe. Mín mōdor tunge Englisc īs, ac ic magan ācweþan Mandarin, Frencisc, Brettas, Īrisc, Scottisc gælic, Manx, Germanisc, Spanisc, ac Japanese, mā oþþe laessa. Ic ēac habban anfeald ongytenes of Taiwanisc, Cantonisc, Esperanto, Italisc, Portuguisc, Czech, Russisc, Breton, Niðerlandisc, ac Brettisc bēacen geþēode.
Mā cyðan mín gereord bōccræft frommen..
Ofer geþēode mín maeste iersigend glīwcræft þis - Ic āsingan be getæl scoppen ac oðre hringen, āwrītan lēoðsangen, plegan fela glīwcræften ac gelōme faran tō gieddianan. Ic ēac brūcan raeding ac jogelen.
Eac, gif ēow wundor, Mín cūðnama, Ager, is secgen swā /'eɪgə/ (/'eIg@/). Becuman fram se Seaxisc nama Ēadgār.
Eow canōn fultumian Omniglot be geoffrian mid Paypal.
Gieften mæg bēon macian be punden
oþþe be Geānlǣht Rīcu Dollaren
Oþþe þū mæg āgiefan tō se steall be ōðer wegen.
About this site | Omniglot - a potted history | About me | My language learning adventures | My singing adventures | My songs | My tunes | My musical adventures | My juggling adventures
Old English / Anglo-Saxon translation by Matthew Leigh Embleton
Information about Old English | Old English phrases | Tower of Babel in Old English | Old English-related books and learning materials
About me in other languages
About this site | Omniglot - a potted history | About me | My language learning adventures | My singing adventures | My songs | My tunes | My musical adventures | My juggling adventures