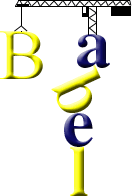 The Tower of Babel (Genesis 11: 1-9)
Biete
Babel In risâng
A tîrah khan chu rinênga mi murdi khah ṭong khatkah bang an mang a, kha ṭong khah munkan an imang a nit.
Khosak tiang an rithon thiai lâiah khan Babilon rama phâizôl* an hong tlung a, amakhan om mun an khuar tâk a.
An rêngkan "Tho rei, rolung siam ei ta, iṭha takkan lei hâlinkhir rei," an riti risak a. Khanchu, lung rithûlin rolung an mang a, ipil rinât an inriman a.
"Tho rei, khopui siam ei ta, in risâng tak a sîpin rivân isun rangin sin ei ta; khanchu, ei riming inthangin siam ei ta, rinêng chung murdiah rithek indarin om no min e," an ti a.
PUMAPA khah Manmasi naihei khopui siam neh an in risâng sin kha ien rangin a zuang ṭum a.
ani khan, "Ringai ta u, mihei hih pumkah an nit a, an rêngkan ṭong khatkan an ṭong a; khasikin, hi thil hih isin an iphut a nit hih; sôt ino ten an inuam nuam an itho thei rang a nit hite!
Tho zu fêng ei ta, ṭong an ririat risak thei nona rangin an ṭong la zûn danglam pêk chit rei," a ti a.
Khanungchu, PUMAPA khan annihei khah khantaka rithoka khan rinêng chung murdiah â thek indar a; khanchu, an kho siam khom khah an bâng tâk a.
Khasikin, kha khopui riming khah Babel** iti a nit tâk a; PUMAPA khan kha munah khan rinênga mi murdi ṭong khah ân danglam chit tâk sikin Babel an iti a nit; khantaka rithoka khan PUMAPAkhan annihei chu rinêng chung murdiah khan â ṭhêi indar tâk a.
*'Somer phâi' iti a nit, 'Sinar phâi' khom an ti ngai. Babilon ram sunga om a nit.
** 'Babilon' iti khom a nit, amakha Hebrai ṭongin 'inripol' tina a nit.
Source: PATHIAN LEKHABU RITHIANG. RIPHUTNA. Biete Bible. Bible Society of India.
Contributed by Wolfgang Kuhl
Biete is a Kukish language spoken mainly in the Indian states of Assam and Meghalaya.
More information
https://en.wikipedia.org/wiki/Biete_language
http://www.ethnologue.com/18/language/biu
Other Tower of Babel translations
By language | By language family