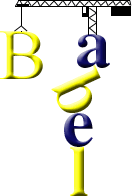 The Tower of Babel (Genesis 11: 1-9)
ককবরক (Kokborok)
Babelni nok kuchuk
Yaphango ha gwnangwi'-no borokrokni kókmung-kókrok thansa se tei kóktháirokbo kisa.
Borokrok salkabaini thángwi bórok Babilonni hapharno nuk kha tei aro'-no kami kha ka.
Bórok khoroksa tei khoroksano hai hwnwi sa lai kha, "Phai di chwng it tagwi sógwi rak rw lai anw." Hakhe bórok nok tangna bagwi it tei abono chwrap rwna bagwi belengtwi man kha.
Hakhe bórok hai hwnwi sa lai kha, "Phai di chwng chini bagwi kamiyung tang lai anw tei nokha jora kuchuk khe nok kuchuk khungsa tisa lai anw tei chini mung rw lai anw, omo hai khe chwng ha gwnangwi pisa-piring wng ya tẃi kurum-kuthum khe tongwi man lai anw."
Hakhe, Subraiyung borokrok tang laimani u kamiyungno tei a nok kuchukno naina bagwi nongkhorwi phai kha.
Subraiyung hai hwnwi sa kha, "Nai di bórok borok kaisa se tei bórokni kókmungbo kaisa; tei omono bórok tamo khlaino aboni cheng grama se, phiya bórok khlaina hwnwi chap laimano tei samung cha rwui man glak kha.
Phai di, chwng nongkhorwi thángwi bórokni kókno gothok lai ya khlaiwi rwui khoroksa bai tei khoroksano tamo sa kha romwi man lai ya khlai rw lai anw."
Omo hai khe Subraiyung bórokno ha gwnangwi'-no pisarwi rw kha tei bórok o kamiyung tisama yakarwi tháng lai kha.
Aboni bagwi'-no abono Babel* hwnwi mung pharjago, tamni hwn ba Subraiyung aro'-no ha gwnangwini borokrokno kók gothok lai ya khlaiwi rw-o tei Subraiyung aroni'-no bórokno ha gwnangwi koproi rwui rw-o.
*Babel: O mung khe Hibru kók bai "Sabul-nabul" hwnma hai.
Source: Baibel Kwthar. Yaphang. Bible Society of India – 2013.
Contributed by Wolfgang Kuhl
Kokborok is a Brahmaputran language spoken by about 1.5 million people in Tripura, Assam and Mizoram in India, and in Bangladesh and Burma. It is also known as Borok, Kók Borok, Kak-Borak or Tripuri.
More information about Kokborok
https://en.wikipedia.org/wiki/Kokborok
http://www.ethnologue.com/18/language/trp/
Kokborok numbers | Tower of Babel in Kokborok
Tower of Babel in Brahmaputran languages
Khiamniungan, Kokborok, Tangsa
Other Tower of Babel translations
By language | By language family