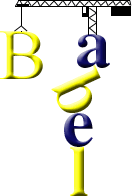 The Tower of Babel (Genesis 11: 1-9)
Kosarek
Ae Mororo Sopso Walelamekpa Allahri Obsiogha
Samen nimi so'oag wamekne taneko niri yubu ot nhonog yubuog lelamek.
Sin taneko yale heng walelingkirobag sip piekti mog so'o pulu nhon Sinear ibekti so'o eneag wamek.
Wamekti sin-sin yubu lelamekti, "Ae nhon sobaukap," aro yubu lelamekti, "So'o winiro aukag tabebeba kirik saog taleba kirik pai so'obai* ubu walelameberi sobukap," seekti so'o winiro tabekti
lelamekti, "Nun sembe wamukapag as nhon ya'aro solameberi nusamag ae nhon mororo sopso im tamag solingkukap. Sobaberi nun tala-tala taukap kom. Sobabe ae ene nun dam nimi omektangto seneragtangto ka'aseptangto komkom wamukap."
Wene aro seneraghektisolamekpa Nuni Allahri kemelingkihinun aro kulukulaog.
Kulukul aogti Nuni Allah ponekori, "Wene nimi mog so'o eneag wamangne yubu ot nhon, nimi mog so'o as eneag wamangne babe ot nhon, wene alnirobag alnibang, amik wamikti phelektopne ulamukang.
Ane sembe Na kulukaneri yubu yog-yog nembahineba nhondi nhon yubu ka'ebanep kom wamlul," seog.
Wene seogti Nuni Allahri, "Sin unulamangne tanena mog so'oag tala-tala taik," aro talup lambahiogpa, ae eneko soban koma laploa tala-tala taek.
Nuni Allahri nimi yubu mo-mo nenelamsiogti, talup lambahiogpa, tala-tala taekag aneko si "Babel†" engkaog.
* 11:3 Kirik pai wiri haun terenga saogne lelebi kirik pai wiri haun terenga saogne lelebi sopso yangkalamek. Wiri haun terenga saogne nene Kosarek nimi so'oag orog. Wiri haun terenga saogne nene so'oag agha lanaroba.
† 11:9 Si "Babel" aropne nene Allahri "yubu mo-mo nembahiog".
Source: SUMBAOGHA. Portions of the Holy Bible in the Mek Kosarek language of Papua Province, Indonesia. Bagian dari Alkitab dalam bahasa Mek Kosarek Provinsi Papua, Indonesia.Wycliffe Bible Translators, Inc., 2015.
Contributed by Wolfgang Kuhl
Information about Kosarek
https://en.wikipedia.org/wiki/Kosarek_language
http://www.ethnologue.com/18/language/kkl
Tower of Babel in Trans-New Guinea languages
Amele, Awara, Barai, Bimin, Binumarien, Blagar, Borong, Burum-Mindik, Dadibi, Faiwol, Guhu-Samane, Huli, Kamasau, Kamono, Kamula, Kanasi, Kanite, Komba, Kosarek, Kosena, Kyaka, Maia, Maring, Narak, Ngaing, Numanggang, Samberigi, Siroi, Tairora, Tuma-Irumu, Waris, Waskia, Yipma, Yongkom
Other Tower of Babel translations
By language | By language family