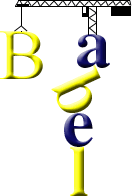 The Tower of Babel (Genesis 11: 1-9)
Ekoti (Koti)
Otapanyeya wa Luuka
Wakathi aya opo olumwenku wooshi waarina luuka moote na nanna moote yoottakhula.
Atthu aalankhiye malawa-juwa khusikana nttapo la Shinaari khwiikhala attaapho.
Khusiilana yoori: "Nlaweni nuupe thizolo nooche saaneene." Thizolo epile khuretta wiiya mawe, piriniisi khunretta wiiya mattakha.
Theenya khuri: "Nlaweni nijeke sitati yawiiyana korofwa khuluyeene enkomaaye pinku, yoori nzina letthu liiye loojuwanikha, nihiiye woomwazeyela olumwenku wooshi."
Paata ya toole, Nnyizinku khwiishukha yoori oone sitati ya korofwa etile aari ojekaaye atthu apale.
Ye khuri: "Moone! Atthu apa amoteru, ooshi anttakhula luuka moote. Eti arettiyeeyo eetta waaza, khaavo anttelaaye owaakarawela etile awaziyeeyo.
Nlaweni niishukhe navirikanise luuka anttakhulaaye yoori ahisala asiilana mmote na nzaawe."
Ethiito, khukaraweleya ojekiwa sitati etile, Nnyizinku khuwaamwazela olumwenku wooshi.
Ti eto sitati etile khutthajiwa nzina la "Babeeli*", mwaasa wa Nnyizinku ovirikanisa luuka ya anaatamu ooshi. Attaapho, Nnyizinku khuwaamwazela olumwenku wooshi.
* 11:9 Babeeli enlattanana nttakhuzi liriina maana ootapanyeya".
Source: Mwanzo. Portions of the Holy Bible in the Kote Language of Mozambique. Porções da Bíblia Sagrada no Kote Língua Moçambique. WBT 2005-2008.
Information about Koti | Tower of Babel in Koti
Tower of Babel in Bantu languages
Bemba, Beti, Bulu, Chichewa, Dawida, Kamba, Kikuyu, Kinyarwanda, Kirundi, Koti, Kwanyama, Lamba, Lingala, Lozi, Luba-Katanga, Luganda, Luragooli, Mbunda, Mpongwe, Ndebele, Ndonga, Nkore, Northern Sotho, Nyakyusa, Sango, Sena, Shona, Soga, Southern Sotho, Sukuma, Swahili, Swati, Tetela, Tonga, Tsonga, Tswana, Tumbuka, Venda, Xhosa, Yao, Zulu
Other Tower of Babel translations