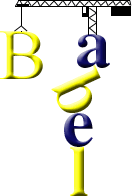 The Tower of Babel (Genesis 11: 1-9)
Twi
Babel abantenten no
Na asase nyinaa sofoɔ yɛ anokorɔ kasa kasa korɔ.
Na wɔtuu kwan faa apueeɛ no, wɔhunuu asasetam bi wɔ Sinear asase so, na wɔtenaa hɔ.
Na wɔsesee wɔn ho wɔn ho sɛ: Wiɛ, momma yɛnyɛ ntaayaa, na yɛnto! Na ntaayaa no yɛɛ wɔn aboɔ, na ama yɛɛ wɔn dɔteɛ.
Ɛnna wɔkaa sɛ: Wiɛ, momma yɛnkyekyere kuro, na yɛnto abantenten a n'atifi bɛduru soro, na yɛmfa nnye din, na yɛanhwete asase nyinaa ani.
Na AWURADE siane bɛhwɛɛ kuro ne abantenten a nnipa mma retoɔ no.
Na AWURADE kaa sɛ: Hwɛ, wɔyɛ ɔman baako, na wɔn nyinaa ka kasa korɔ; na deɛ wɔafiri aseɛ reyɛ nie; na afei, biribiara rentumi nsi wɔn deɛ wɔsusu sɛ wɔbɛyɛ no biara ho kwan.
Wiɛ, momma yɛnsiane nkɔ hɔ na yɛnkɔyɛ wɔn kasa basabasa, na wɔn mu biara ante ne yɔnko kasa bio.
Na ɛfiri hɔnom na AWURADE bɔɔ wɔn hwetee asase nyinaa ani, na wɔgyaee kuro no kyekyerɛ.
Enti na wɔfrɛ hɔ Babel*, ɛfiri sɛ ɛhɔ na AWURADE yɛɛ asase nyinaa kasa basabasa. Ɛfiri hɔ na AWURADE bɔɔ wɔn hwetee asase nyinaa ani.
*Babel: Asyekerɛ ne: Basabasa
Source: werɛ Kronkron (ASWDC). Gyenesis. The Bible Society of Ghana.
Contributed by Wolfgang Kuhl
Information about Twi | Tower of Babel in Twi
Tower of Babel in Kwa languages
Akan (Twi/Fante), Chumburung, Ga, Twi
Other Tower of Babel translations
By language | By language family