Absat script
Absat script is the creation of Abdul Syukur Sugiharto, who designed it to write his constructed language Gyza. The name Absat comes from the first four letters: a, b, s, t.
Notable features
Writing system: alphabet
Direction of writing: left to right in horizontal line
Used to write: Gyza language
Number of letters: 20 consonants, 5 vowels (a, i, u, o, y), and 1 reading mark, named hix'y.
Absat script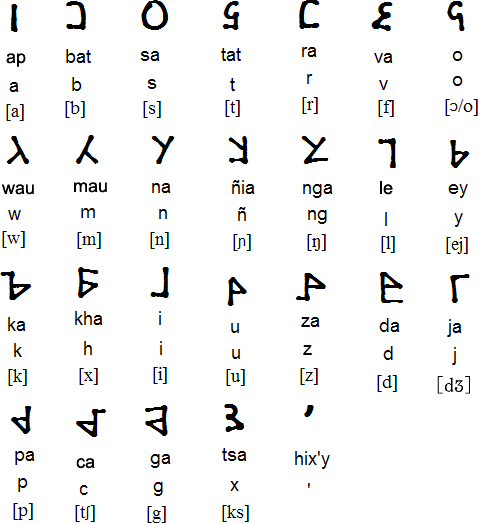 Notes
The letter y is always read as /ej/. So, Gyza is pronounced /gejza/.
The letters h and x have different pronunciations depending where they appear in words.
Some consonants become ejective when followed by /ə/.
The hix'y mark (IPA: /xit͡s'ej/) indicates a glottal stop
Pronuciation of H and X

Examples

Ejective consonants

Examples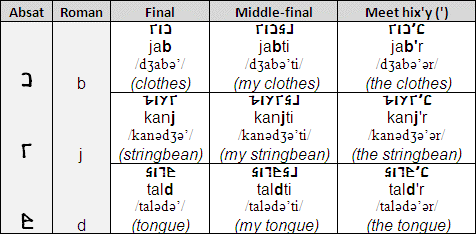 Hix'y and vowels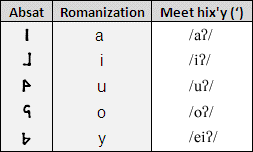 Examples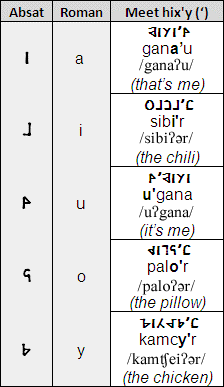 Numerals

Sample text

Transliteration
Oca bimo mosyim ryg noxah cavar nomuksayiz rok obon. Antas mokuw tyn nokozyn nozilad gudovom kar murd nixum nanamay.
Translation
All human beings are born free and equal in dignity and rights. They are endowed with reason and conscience and should act towards one another in a spirit of brotherhood.
(Article 1 of the Universal Declaration of Human Rights)