The Dancing Men script
The Dancing Men script is a secret alphabet used by a gang of American criminals in the Sherlock Holmes short story "The Adventure of the Dancing Men", which appears in The Return of Sherlock Holmes, A Collection of Holmes Adventures by Sir Arthur Conan Doyle.
The script is a substitution cypher in which each letter of the Latin alphabet is substituted for a picture of a dancing man. Information about the script within the story is limited, and it appears that there is no connection between the postures of the men and the letters they stand for, and in the original illustrations few of the symbols are consistent from one message to another.
17 of the symbols are documented in the story and Sherlockian scholars have puzzled over the remaining symbols for many years. A Danish scholar, Aage Rieck Sørensen, discovered a hidden pattern in the script, although while some symbols had to be revised to fit the pattern.
Notable features
Type of writing system: alphabet
Direction of writing: left to right in horizontal lines
Used to write: English
Texts are written without spaces between words
There are no equivalents of uppercase letters or punctuation
The men at the end of each word have a flag
The Dancing Men script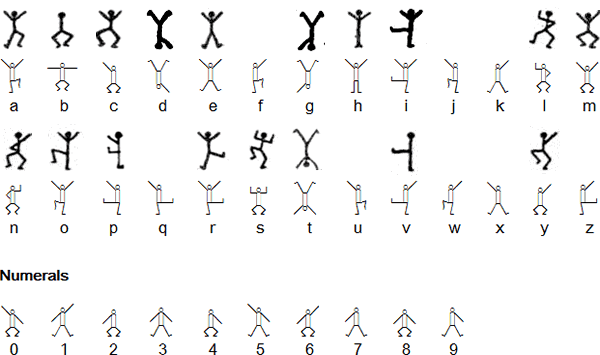 This chart shows the original symbols on the first row and Aage Rieck Sørensen's version, including the missing symbols, on the second row.
Sample texts

Transliteration
Come here at once.

Transliteration
All human beings are born free and equal in dignity and rights. They are endowed with reason and conscience and should act towards one another in a spirit of brotherhood.
(Article 1 of the Universal Declaration of Human Rights)
Links
Information about the Dancing Men script
http://goto.glocalnet.net/tedbe/sh/files/dancingmen.html
http://www.geocachingtoolbox.com/index.php?lang=en&page=dancingMen
The Adventure of the Dancing Men
http://www.gutenberg.org/files/108/108-h/108-h.htm#linkH2H_4_0003