Dothraki
The Dothraki alphabet was invented by Carlos and Patrícia Carrion as a way to write the Dothraki language, a constructed language created by David J. Peterson for the television series, Game of Thrones, and based on the invented words and phrases used in George R. R. Martin's series of books entitled A Song of Ice and Fire.
Notable features
Type of writing system: alphabet
Direction of writing: left to right in horizontal lines
Used to write: Dothraki
There are two versions of the alphabet: the ancient and the new alphabets
The four vowels are formed by a basic one (e.g. A) simply turned 3 times by 90º
Pairs of similar sounds (hard/soft) have the same symbol turned by 180º (B-P; Ch-J; D-T; F-V; G-K; Sh-Zh). Other pairs (M-N; L-R) are similar.
The semivowels W and Y have also by turned by 180º
Vertical short strokes indicate palatization (Th, Kh), some other modification (Sh, Zh), further modification (Q)
Long (double) vowels are represented by short vowels symbols + an additional short stroke
There are no number symbols in Dothraki
Dothraki alphabet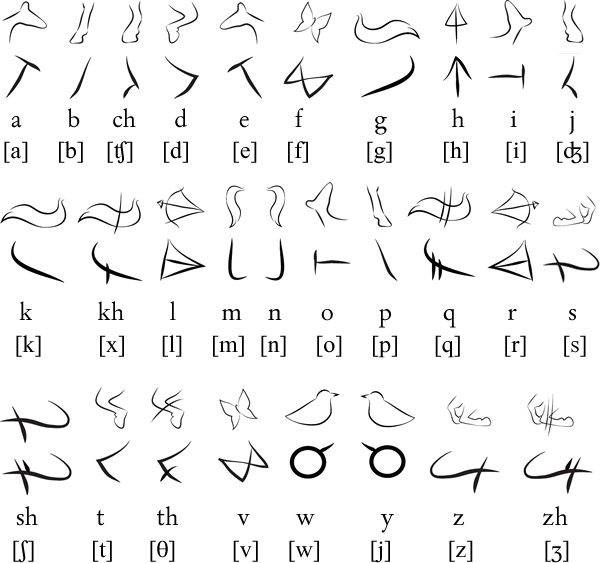 The first row of letters are in the Ancient Dothraki alphabet. The second row are in the New Dothraki alphabet.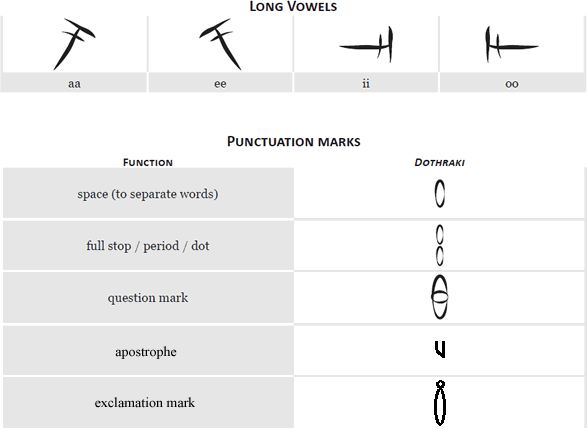 Sample phrases

Transliteration
Shieraki gori ha yeraan!
Translation
The stars are charging for you.
(Said to someone who is going into battle.)

Transliteration
Hash yer dothrae chek asshekh?
Translation
How are you today?
(Do you ride well today?)

Transliteration
Anha dothrak chek asshekh.
Translation
I feel well today.
(I ride well today.)
Latin alphabet for Dothraki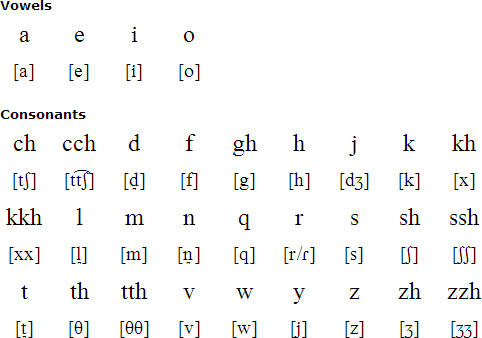 Notes
u only appears with q and only in names
After q a is pronounced [ɑ], e [ɛ], o [ɔ] and a [e]
After dental consonants o = [ɤ], and after g k and kh it is pronounced [u]
b and p are also used, but only in names
voiceless stops can be aspirated
Links
Information about the Dothraki language
http://www.dothraki.com
http://en.wikipedia.org/wiki/Dothraki_language
http://awoiaf.westeros.org/index.php/Dothraki
Valyrian script
Carlos and Patrícia have also invented a script that the Dothraki script was based on: the Valyrian script. Here are the details:
Information about Dothraki | Numbers in Dothraki
Other writing systems invented by visitors to this site