Dovahzul
Dovahzul, or the dragon language, is featured in The Elder Scrolls video game series, beginning with The Elder Scrolls V: Skyrim released in 2011. It has no official designation; fans of the series refer to it as Dovah (the language's word for "dragon") or Dovahzul ("dragon-voice"). The alphabet draws inspiration from the ancient Cuneiform script. Its runes are designed to resemble claw marks etched into stone, typically with two or three slashes and a dot or hook formed by the dewclaw.
Notable features
Type of writing system: alphabet
Direction of writing: left to right in horizontal lines
Used to write: Dovah(zul), the dragon language
Dovahzul has no upper or lowercase letters or any forms of punctuation
Dovahzul alphabet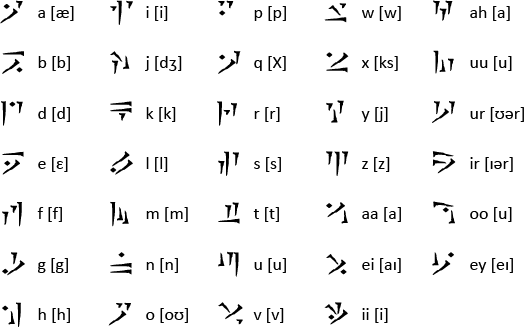 Sample text in Dovahzul

Transliteration
Pah MUZ LOS KiiN STIN ahRK
MED KO ZIN ahRK VahZEN
NUST LOST KOGaaN DO ONIKaaN
ahRK HahDRIM ahRK FENT KOS OL
GeiN ZII DO ZeyMahMaaR
Translation
All men are born free and
like in honor and truth.
They have (the) blessings of wisdom
and mind and shall be as
one spirit of brotherhood.
Links
Information about Dovahzul
http://www.uesp.net/wiki/Lore:Dragon_Language
http://www.primagames.com/games/elder-scrolls-v-skyrim/primaguides/292/gameplay
http://www.thuum.org/
Learn Dovahzul
http://www.thuum.org/learn/
https://www.facebook.com/LearningTheDragonLanguage
Dovahzul Font
http://www.1001fonts.com/dragon-alphabet-font.html
The Elder Scrolls - official site
http://www.elderscrolls.com