Fennim
The Fennim alphabet was invented by Benjamin Plymale in order to create a writing system that used only a small amount of symbols to make a large amount of sounds. From 12 base symbols (8 consonants, 2 vowels, and 2 semi-vowels) a further 24 symbols were created using accent marks and hooks to modify the base symbols' sounds.
It can be used to written English, Spanish, and Russian with only slight modification of the vowels' designated IPA. The alphabetical order was determined by where the letters are formed in the mouth: the consonants go from labial to glottal, the vowels separate the consonant groups and go from front to back (and closed to open), and the alphabet is bookended by the soft sign (|) and the hard sign (||).
This alphabet also has a corresponding numbering system as well as its own full punctuation. Due to the wide variety of accents in English, spelling using this alphabet will change from region to region depending on the speaker with one of the only spelling rule that ignores pronunciation being -er always being transcribed as though pronounced -ər. The other rule is that the "y" and "w" symbols should only be used as consonants with the soft sign being used to modify vowel sounds.
Notable features
Type of script: alphabet
Direction of writing: left to right in horizontal lines
Used to write: English, Spanish, and Russian
Used to transliterate languages phonetically as opposed to letter-by-letter
Base symbols are often voiced consonants and accented symbols are unvoiced.
Hooked symbols are usually related to the base symbol as well - for example the a hook placed on the symbol for "s" makes it "sh" or a hook on "d" makes "j."
Fennim alphabet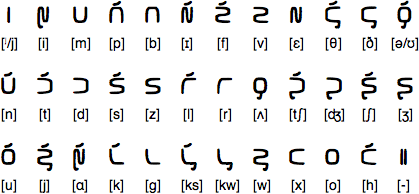 The || letter (last letter in the alphabet) isn't used in English; only in Russian to emulate the hard sign (ъ).
Fennim symbols grouped together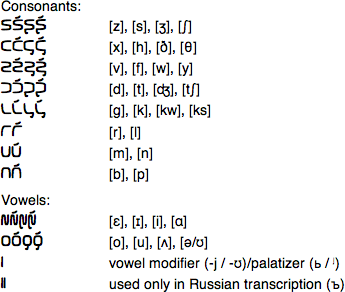 Fennim diphthongs

Fennim numerals

Fennim punctuation

Sample text

Transliteration
All human beings are born free and equal in dignity and rights. They are endowed with reason and conscience and should act towards one another in a spirit of brotherhood.
(Article 1 of the Universal Declaration of Human Rights)
Download a font for Fennim (TrueType, 39K)
Also by Benjamin Plymale