Gaan Khaa
The Gaan Khaa script was invented by Jimmy Xavier Kuan, modelled on the Castithan script by David J. Peterson. It is a abugida/alphasyllabary, and can be used to write Orli Khaa, a conlang also invented by Jimmy Xavier Kuan.
Noteable features
Type of writing system: abugida/alphasyllabary
Direction of writing: left to right in horizontal lines
Used to write: Orli Khaa
The pronunciation of consonants is changed either by the vowel, or by a special circular symbol above the consonant, represented by the "-h" after the consonant in the literal transcription (e.g., Mh, Gh, Bh), except for "Rh" which has to be written with an "-h" at all times.
This script's last spelling reform was in the year 700 AD, and is has not changing since, hence the strangeness in orthography for the literal transcription. For example, the literal transcription of the name of the script is Ćyaoiwrhn Ćyaoiwrh, and it is pronounced /kʰaːn kʰaː/
It features "hard" vowels, which are /a/ /ɔ/ /u/ and "soft" vowels, which are /ɛ/ /i/ /ɪ/ /ə/. Depending on the vowel being "soft" or "hard", the consonant will change its pronunciation.
Alphabet chart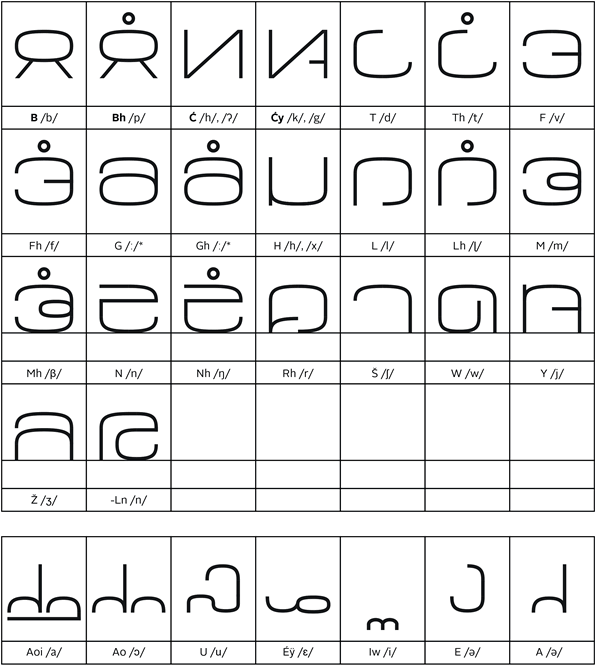 Sample text

Translation
All human beings are born free and equal in dignity and rights.
(Part of Article 1 of the Universal Declaration of Human Rights)
Other alphabets invented by visitors to this site