Geup-Simhangul (GSH)
Geup-Simhangul was invented by Kim Godgul as an alternative script for Korean created in December 2008. 'Geup' means rapid, hurry in Korean. 'Sim' means heart or center. GSH's consonants are similar to Hangul consonants when they are used as initial consonants of GSH syllable blocks, but different elsewhere.
Geup-Simhangul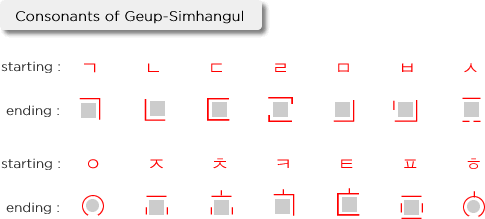 Sample text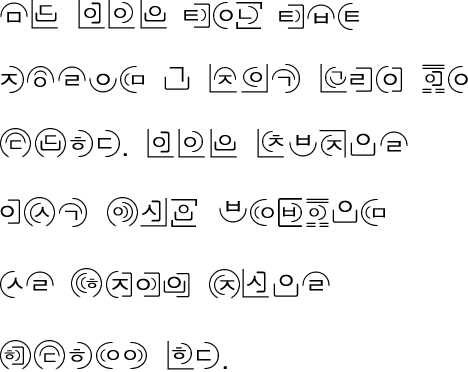 This text in Korean Hangul
Transliteration
Modeun Ingan-eun Tae-eonal ttaebuteo Jayuroumyeo Geu Jon-eomgwa Gwonrie Iss-eo Dongdeunghada. Ingan-eun Cheonbujeog-euro Iseong-gwa Yangsim-eul Bu-yeobad-ass-eumyeo Seoro Hyungje-ae-ui Jeongsin-euro Haengdongha-yeo-yahanda.
Translation
All human beings are born free and equal in dignity and rights. They are endowed with reason and conscience and should act towards one another in a spirit of brotherhood.
(Article 1 of the Universal Declaration of Human Rights)
More information about Kim Godgul's alphabets (in Korean)
http://chogul.tistory.com/
Information about Korean | Phrases | Numbers | Colours | Tongue twisters | Tower of Babel | Articles | Learning materials | Links
Other con-scripts by Kim Godgul
Baal, ColorHoney / ColorTokki, Geup-Simhangul, Godgul, Hal, Rohal, Sacgul, Simplebet
Other alternative scripts for Korean