Hal
The Hal alphabet was invented by Kim Godgul as an alternative script for Korean. It is based on the Korean Hangul alphabet and there is a one-to-one match between the letters of Hal and Hangul. Unlike Hangul, Hal is written linearly rather than being grouped into syllables. The name Hal is a contraction of Hangul.
Notable features
Type of writing system: alphabet.
Direction of writing: left to right in horizontal lines.
Used to write: Korean
Hal alphabet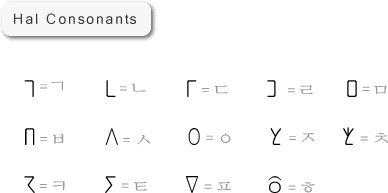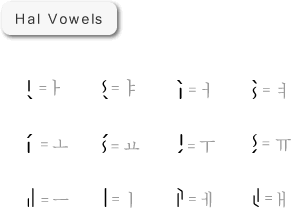 Sample text

This text in Korean Hangul
Transliteration
Modeun Ingan-eun Tae-eonal ttaebuteo Jayuroumyeo Geu Jon-eomgwa Gwonrie Iss-eo Dongdeunghada. Ingan-eun Cheonbujeog-euro Iseong-gwa Yangsim-eul Bu-yeobad-ass-eumyeo Seoro Hyungje-ae-ui Jeongsin-euro Haengdongha-yeo-yahanda.
Translation
All human beings are born free and equal in dignity and rights. They are endowed with reason and conscience and should act towards one another in a spirit of brotherhood.
(Article 1 of the Universal Declaration of Human Rights)
More information about Kim Godgul's alphabets (in Korean)
http://chogul.tistory.com/
Information about Korean | Phrases | Numbers | Colours | Tongue twisters | Tower of Babel | Articles | Learning materials | Links
Other con-scripts by Kim Godgul
Baal, ColorHoney / ColorTokki, Geup-Simhangul, Godgul, Hal, Rohal, Sacgul, Simplebet
Other alternative scripts for Korean