Kenamoya
Kenamoya is an abugida invented by Carl Buck to write his conlang, Kala. It is meant primarily to be decorative. A handwritten version is also possible. The word kena means "circle" and moya means "write; spell; letter".
Notable features
Type of writing system: abugida
Direction of writing: vertical in columns running from top to bottom and from left to right
Number of symbols: 14 consonants, 13 vowels (including diphthongs), and 3 diacritics.
Kenamoya consonants

Kenamoya vowels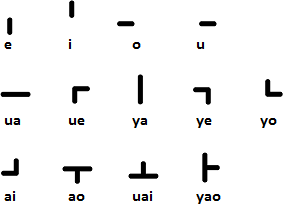 Kenamoya diacritics

How to form glyphs

Sample text in Kenamoya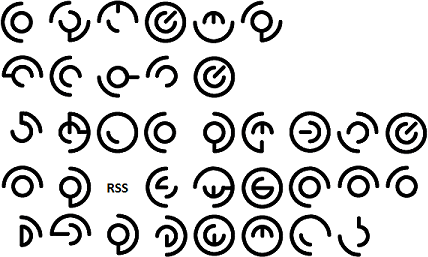 Transliteration
tayetla nihampa tsaniye
noma tamahu - nyasampa
itla kyomiha, ta ke teniko uasampa - na ke RSS tayo sutsepua ma na nya akya noko ke kasepeni maha hika
Gloss
2SG-DIST.4SG nice-very tell.story-PST
thing good-extreme - thank-much
this be.intereting-AUG 2SG O journal-AG skill-very - 1SG O RSS 2SG.POSS subscribe-PFV CONJ 1SG for awake remain O report-piece-nice more wait
Translation
You told that very nicely!
A great thing, thank you very much.
This is very interesting, you are a very skilled journalist – I subscribed to your RSS feed and I remain awake for more awesome articles.
More information about Kala can be found at
http://footballbatsandmore.wordpress.com
Writing systems by Carl Buck
Ajan, Ecta, Eshta, Kala, Kenamoya, Kitse, Moj, Naua, Pesato, Uyata, Zhongyinzi
Other writing systems invented by visitors to this site