Rila Sign System
The Rila Sign System is an alternative alphabet for Russian, English, Spanish and other languages devised by Stefan Stoynov. He invented it because he finds writing text messages (SMS) in Bulgarian on a mobile phone rather difficult and he thought there might be a better way to do this. This sign system is designed to be easy to enter on a keypad and uses a small number of symbols that correspond to letters in the Cyrillic and Latin alphabets.
Notable features
Type of writing system: alphabet
Used to write: Russian, English, Spanish and other languages
Direction of writing: left to right in horizontal lines
Rila Sign System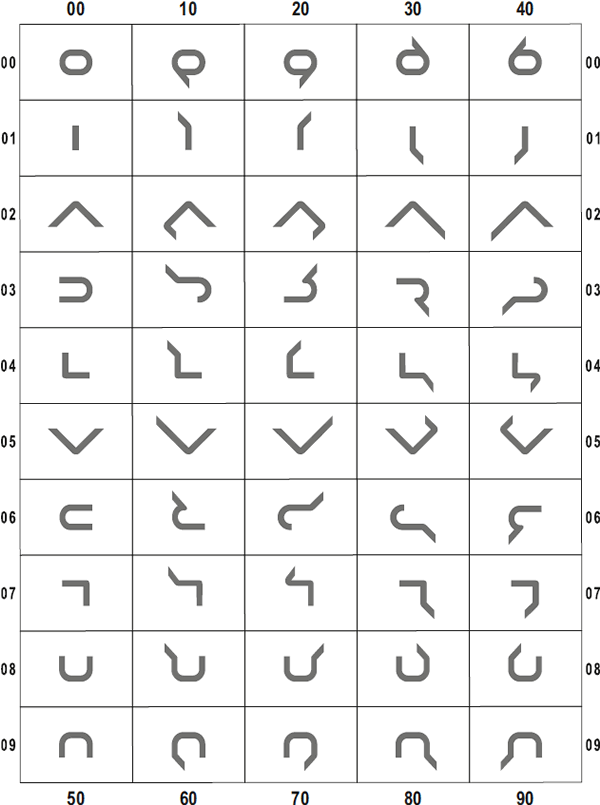 The number of the sign forms doubles through: another font size; another color of the signs or horizontal line under them.
All signs have numerical correspondences which are designate from the outside of the table, as well as for the doubled signs they are from 50 to 99.
The specific meanings of the signs from 50 to 99 are designate in figurative brackets for the different applications.
Examples for applications of the sign system
United presentation of the European alphabets and some linguistic combinations of letters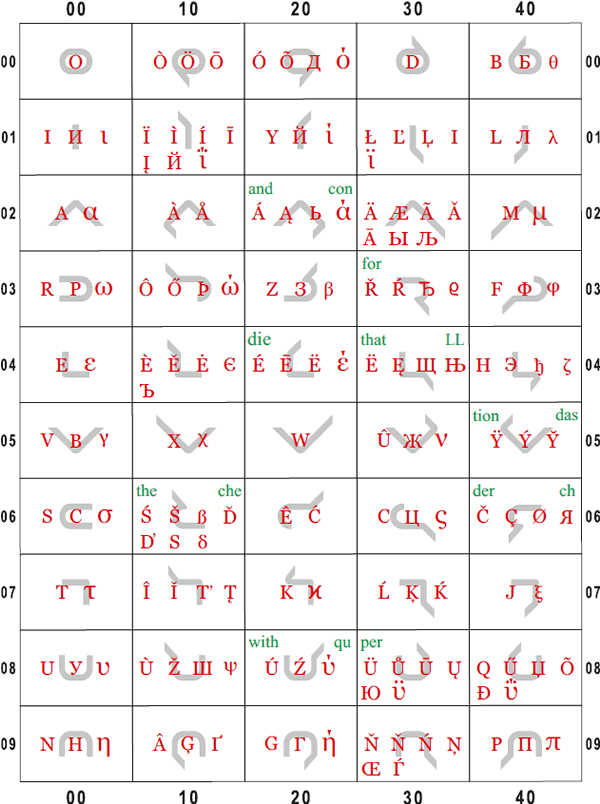 The alphabetic systems include the varieties of the Latin and Cyrillic alphabet, as well as the Greek.
The Greek alphabet is presented through her hand-written letters.
The distribution of the letters and the combinations of letters is according to method for entering which is realizable by mobile, computer, transport and tactile keyboard.
The combinations of letters relate to English, German, Spanish, Italian and Portuguese languages.
Sample text in Rila (English)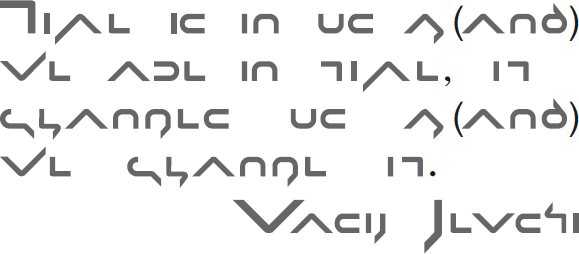 Transliteration
Time is in us and we are in time, it changes us and we change it.
Vasil Levski
Sample text in Rila (Spanish)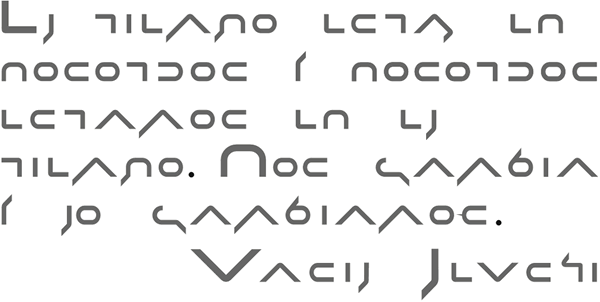 Transliteration
El tiempo está en nosotros y nosotros estamos en el tiempo. Nos cambia y lo cambiamos.
Vasil Levski
Sample text in Rila (Russian)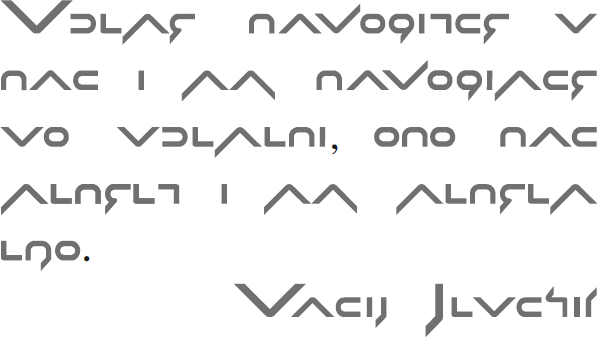 Transliteration
Время находится в нас и мы находимся во времени, оно нас меняет и мы меняем его.
Васил Левский
Sample text in Rila (Greek)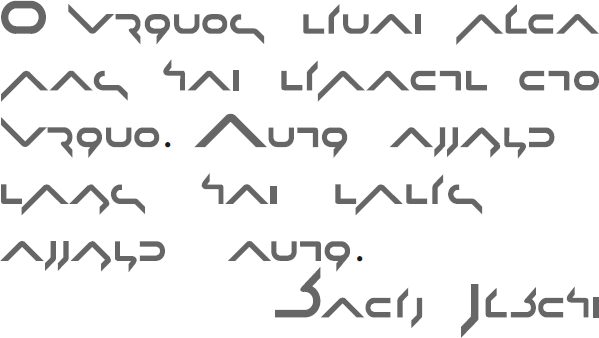 Transliteration
Ο χρόνος είναι μέσα μας και είμαστε στο χρόνο. Αυτό αλλάζω εμάς και εμείς αλλάζω αυτό.
Βασίλ Λέβσκι
Phonetic signs
Denotation of an exemplary system of phonetic signs (English).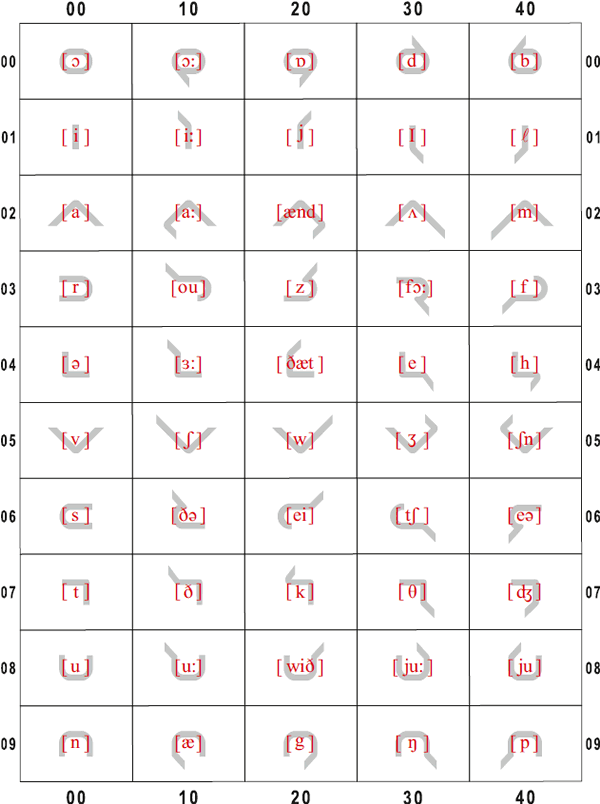 Sample text in Rila (phonetic)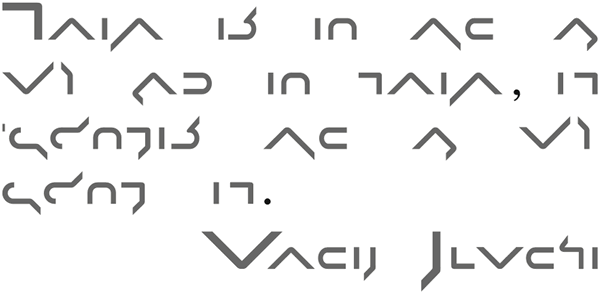 Transliteration
[taim iz in ʌs ænd wi: ɑːr in taim, it ˈtʃeɪndʒɪz ʌs ænd wi: tʃeɪndʒ it.]
Vasil Levski
More details
https://plus.google.com/u/0/112541193031247265264/posts
- More applications of the Rila Sign System (PDF)
- Unified recording of different language information (PDF)
- Denotation of an exemplary system of phonetic signs (Korean) (PDF)
- Sample text in Korean (PDF)
- Sample text in Chinese (PDF)
- An article about the Rila Sign System (PDF, in Bulgarian)