Tengwar for Arabic
This system of writing Arabic with Tolkien's Tengwar script was developed by Gabriel McGovern in 2016. After realizing that both writing systems shared some similarities, Gabriel decided to adapt the famous Elvish script for use with the Arabic language.
In Arabic this system is known as التينوات للعربية (at-Taynwaat lil-'arabiyya). In the Tengwar script this is:
Notable features
Type of writing system: abjad
Direction of writing: left to right in horizontal lines
Used to write: Arabic
The name, "at-Taynwaat," comes from a natural pluralization of the Arabic cognate for a single Tengwa, تينوة (taynwa), with the definite article (al) attached
Just as in Arabic, it can be written in vocalized or unvocalized forms (with or without vowels and other markings)
Vowels are written above their preceding consonants
The tilde, which in Tolkien's Elvish languages denotes nasalization, here represents Arabic nunation
The double fatha, for nunation, can be written with the Tengwar vowel marking for "a," or as the nasal tilde by itself; double kasra and double damma must be written with their respective vowels
The Tengwa óre is used to represent the Arabic taa marbuta (ة) because it looks like a shortened form of tinco, just as the taa marbuta is a "tied-up" form of taa (ت)
The Tengwar anna and vala are used to represent yaa and waw (respectively) when they act as consonants (as in, when they are followed by vowels), while yanta and úre are used to represent yaa and waw (again, respectively) when they act as long vowels
The line used for gemination in the Elvish languages here represents the Arabic shadda (which performs the same function)
Tengwar script for Arabic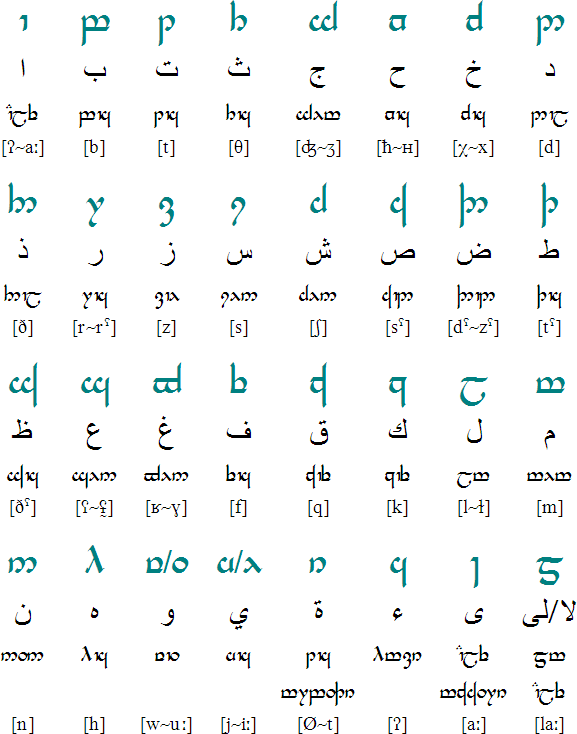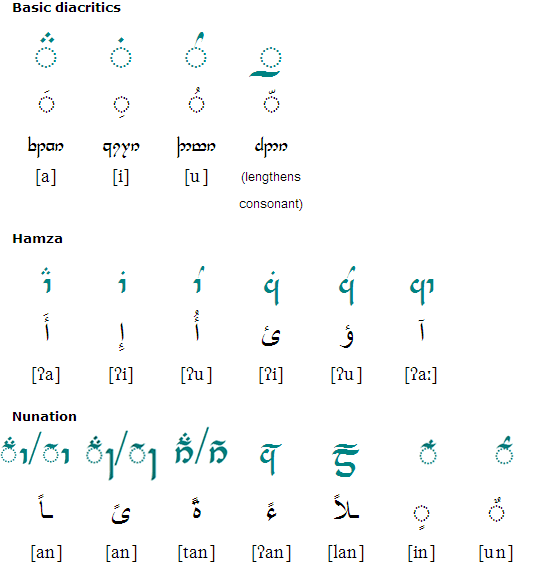 Download the Excel spreadsheet used to make these charts
Sample text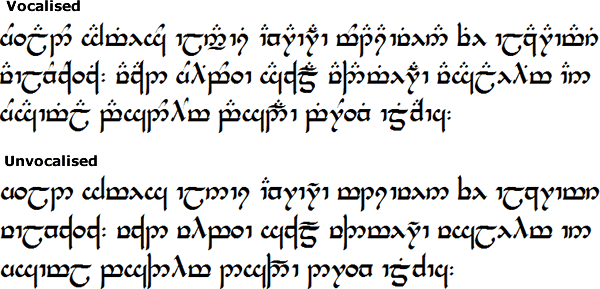 Arabic script version (vocalised)

Arabic script version (unvocalised)

Transliteration
Yūladu jamī'u n-nāsi aḥrāran mutasāwīna fī l-karāmati wa-l-ḥuqūq. Wa-qad wuhibū 'aqlan wa-ḍamīran wa-'alayhim an yu'āmila ba'ḍuhum ba'ḍan bi-rūḥi l-ikhā'.
Listen to a recording of this text by زين العابدين شبيب (Zein Al-A'bideen Shabeeb)
Transliteration
All human beings are born free and equal in dignity and rights. They are endowed with reason and conscience and should act towards one another in a spirit of brotherhood.
(Article 1 of the Universal Declaration of Human Rights)
Information about Arabic | Phrases | Tower of Babel | Articles | Links | Learning materials | Books about the Arabic script | Arabic electronic dictionaries and translators
Tengwar pages
Tengwar for Quenya, Sindarin, Arabic, English, High Valyrian, Hungarian, Icelandic, Portugese, Scottish Gaelic (1), Scottish Gaelic (2), Spanish, Latin American Spanish, Welsh
Tolkien's alphabets and languages
Cirth | Sarati | Tengwar for Quenya | Tengwar for Sindarin | Uruk Runes | Quenya phrases | Tolkien-related links | Books about Tolkien's invented languages | Tolkien's books in various languages