I am the king of the chickens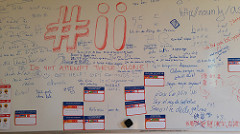 How to say 'I am the king of the chickens/hens' in many languages. For some reason this phrase was translated in various languages by participants at the Polyglot Gathering in Berlin in 2016.
The photo shows the whiteboard where the translations were written (click on it to see a larger version).
Click on any of the phrases that are links to hear them spoken. If you can provide recordings, corrections or additional translations, please contact me.
To see more phrases in each language click on the language names. If you'd like to see these phrases in any combination of two languages, try the Phrase Finder.
Auxiliary and constructed languages
Esperanto
Mi estas la reĝo de la kokinoj
Ido
Me es la rejulo dil hani
Interlingua
Io esse le rege de le pullos
Quenya
Nán aran porokeon
Toki Pona
mi jan lawa pi waso tomo
Volapük
Binob reg gokas
Translations by Simon Ager, Igor Kusin, Jerson Partible, John K Auðunarson Vatterholm, Tyler Castaldo, Victoria Hernandez, Edith Gruber, Matthieu Desplantes, Adriano Steffler, Yogesh Solanki, Philip Newton, Amir Syafiq, Gareth MacColla, Timo Kalmu, Vaughn Oosthuizen, Charlie Aasen, Hugo Forss, Fábio Pereira
If you would like to make any corrections or additions to this page, or if you can provide recordings, please contact me.
Other phrases
Index by phrase | Index by language | Index by language family | Phrase finder