Useful phrases in Telugu
A collection of useful phrases in Telugu, a Dravidian language spoken in southern India, especially in Andhra Pradesh.
To see these phrases in many other languages click on the English versions.
Download the audio files (Zip format, 323K)
Telugu translations by Ramesh Kompella, and recordings by Naga Toram
If you would like to make any corrections or additions to this page, or can provide recordings of the phrases, please contact me.
Information about Telugu | Useful phrases in Telugu | Numbers in Telugu | Tower of Babel in Telugu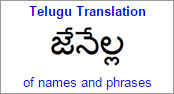 Links
Other collections of Telugu phrases
http://wikitravel.org/en/Telugu_phrasebook
http://www.travelmasti.com/domestic/andhrapradesh/languagetips.htm
Phrases in Dravidian languages
Kannada, Malayalam, Tamil, Telugu