Esperanto estas la plej disvastigita internacia planlingvo. La nomo venas de la kaŝnomo "Doktoro Esperanto", sub kiu la hebrea kuracisto Ludoviko Lazaro Zamenhofo (1859-1917) en 1887 publikigis la bazon de la lingvo. Nomo de Esperanto estas origine La Internacia Lingvo sed post mallonge nomo estas Esperanto. Li travivis sian junecon en la multilingva urbo Bjelostoko, tiam apartenanta al la Rusa Imperio, hodiaŭ al Polujo, kie li ofte povis pririgardi kverelojn inter la unuopaj tie loĝantaj etnoj, do rusoj, poloj, germanoj kaj hebreoj.
Li kredis ke malkonfido inter rusoj, poloj, germanoj kaj hebreoj en Bjelostoko estas pro aliacoj lingvoj. Pro tio li fari la internacia lingvo-Esperanto, utiligata kiel lingua franka kaj li solvis la malkonfido.
En sia fama "Unua Libro" de Esperanto Zamenhof prezentis la gramatikon per 16 reguloj. Tiu ĉi gramatiko eniris en la sistemdokumenton "Fundamenta Gramatiko", kiu, laŭ decido de la Unua Universala Esperanto Kongreso, garantiu la kontinuecon de la lingvoevoluo.
La vortoj devenas de diversaj lingvoj, sed precipe el la latina. La plejparto venis kaj venas el la ĉefaj eŭropaj lingvoj - precipe el la latina, la hispana, la franca, la germana kaj la angla. Etimaj ekzemploj: lerni, lernejo, lernanto, lernejestro. Aliaj ekzemploj: ejo, estro, ktp.
Ortografio estas iomete simile kun pola. Esperanto novajskribsignoj: Ĉĉ, Ĝĝ, Ĥĥ, Ĵĵ, Ŝŝ, Ŭŭ. Iafoje surogate laŭ la x-sistemo: cx, gx, hx ktp. Iafoje surogate laŭ la apostrofo-sistemo: c', g', h' ktp. Iafoje surogate laŭ la h-sistemo: ch, gh, hh, ktp.
Esperanto estas tre disvastigita lingvo artefarita, populara en Ĉinio kaj en Eŭropo. Estas literaturo en Esperanto-libroj, periodaĵoj kaj poezio. Kelkaj estas originale en Esperanto, kelkaj estas tradukaĵo fro iliaj lingvoj. En Esperanto estas krome kantoj, radioj, informistoj...
Ekzistas: 1,000 denaskuloj, 10,000 bonoj parolantoj, 100,000 uzadoj aktive Esperanto, 1,000,000 komprenoj Esperanto kaj 10,000,000 sciij io en Esperanto.
Esperanto alfabeto kaj prononco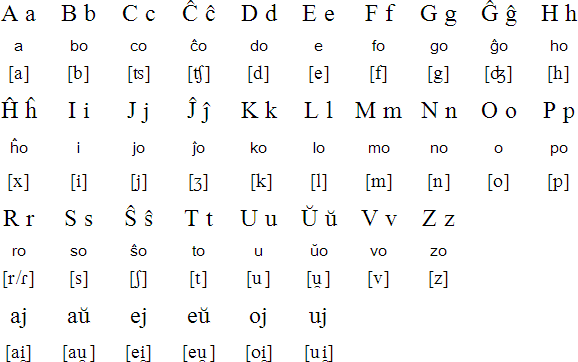 Ekzempla Esperanto teksto
Ĉiuj homoj estas denaske liberaj kaj egalaj laŭ digno kaj rajtoj. Ili posedas racion kaj konsciencon, kaj devus konduti unu la alian en spirito de frateco.
A recording of the text on this page by Jan Jurčík
Esperanto translation provided by Jan Jurčík
Angla tradukaĵo
All human beings are born free and equal in dignity and rights. They are endowed with reason and conscience and should act towards one another in a spirit of brotherhood.
(Article 1 of the Universal Declaration of Human Rights)
Ekzempla Esperanto video
Rimarki: la homoj en ĉi tiu video estas denaskaj esperantistoj.
Information about Esperanto | Phrases | Numbers | Family words | Tower of Babel | Articles | Learning materials
Ligiloj
Multlingva Inform-Centro
http://www.esperanto.net
UEA: Universala Esperanto-Asocio
http://www.uea.org
TEJO: Tutmonda Esperantista Junulara Organizo
http://www.tejo.org
Esperantic Studies Foundation
http://www.esperantic.org
Esperanto lecionoj
http://eo.lernu.net
http://www.esperanto.ca/kurso/
http://pacujo.net/esperanto/course/
http://polymath.org/esperanto.php
https://www.duolingo.com/course/eo/en/Learn-Esperanto-Online
http://www.romaniczo.com/esperanto/index.html
http://bertilow.com/pmeg/
Esperanto frazoj
http://esperantophrases.tripod.com/
http://www.esperanto-chicago.org/phrases.htm
http://www.esperanto.ca/kurso/phrases.htm
Esperanto vortaroj
http://www.la-vortaro.net
http://www.uni-leipzig.de/esperanto/voko/revo/
http://dictionaries.travlang.com/EnglishEsperanto
http://www.denisowski.org/Esperanto/ESPDIC/espdic_readme.htm
http://vortaro.net
Esperanto radio kaj televizio
http://www2.polskieradio.pl/eo/
http://esperanto.cri.cn
http://www.radiovaticana.va/esp/
http://www.osiek.org/aera/
http://radioarkivo.org
http://muzaiko.info
http://esperanto-tv.com/radio
http://www.youtube.com/user/EsperantoTv
Esperanto novaĵoj
http://osiek.org/lagazeto/
http://www.liberafolio.org
http://www.gazetejo.org/gazetoj
http://pilgrimantobrazilo.blogspot.co.uk/
Internaciaj helplingvo j
Blissymbolics, Esperanto, Folkspraak, Ido, Interglossa, Interlingua, Interlingue/Occidental, Interslavic, Lingua Franca Nova, Lojban, Novial, Romániço, Slovio, Volapük
Aliaj lingvoj skribitaj per la latina alfabeto