Khorasani Turkic (Xorasan Türkçesi / خراسان تركچىسى)
Khorasani Turkic is a Turkic language spoken in northern North Khorasan Province and Razavi Khorasan Province in Iran by about 1 million people. There are three dialects of Khorasani Turkic: North, which is spoken in North Khorasan, near Bojnourd; South, which is spoken in Soltanabad near Sabzevar, and West, which is spoken around Bojnourd.
Khorasani Turkic is part of the Oghuz group of Turkic languages, and is closely related to the Oghuz dialect spoken in Uzbekistan, as well as Turkmen, and the Azerbaijani dialects spoken in Iran.
Khorasan Turkic is not usually written and has no official status, however a version of the Perso-Arabic script is sometimes used to write the language. There are also ways to write it with the
Khorasani Turkic alphabet and pronunciation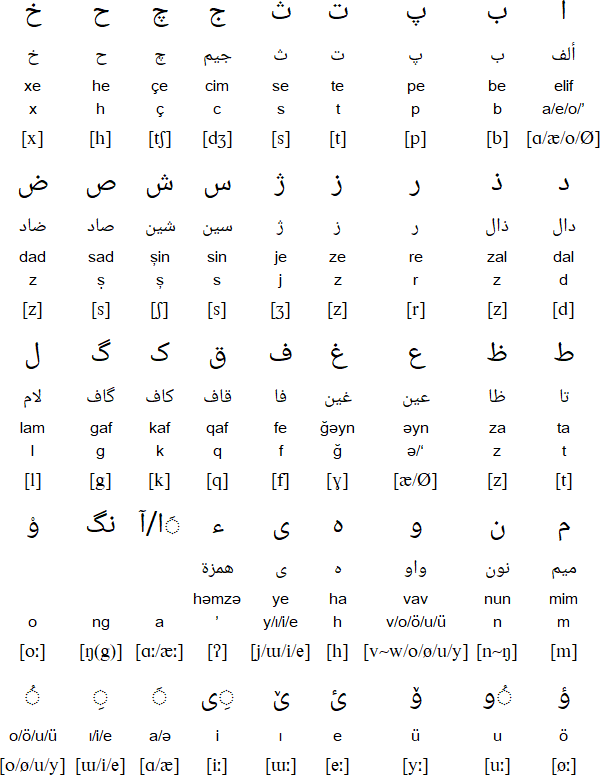 The letters ث، ح، ذ، ژ، ص، ض، ط، ظ and ع are only used in Arabic and Persian loanwords and names.
Download an alphabet chart for Khorasani Turkic in PDF format.
Latin alphabet for Khorasani Turkic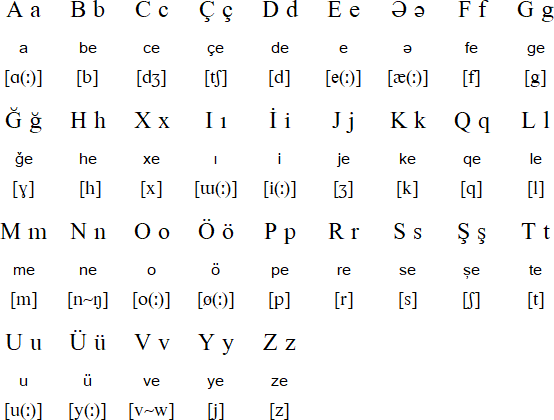 Sample text
ال غسا بیر زیود پدیشهی بـهریدی.
خوداوندی آلم اونا هیچ اوغول اتا ایلهمامیشدی.
بدن وازیره دهدی: «ای وازیر, منده کی اوغول یوخدی. من نه چاره ایولیم»؟
وازیر دهدی: «پادیشای قیبلنهیی آلم, سن بو مالیموالی نیلیسن»؟
Transliteration
Al ğəssa bir ziüəd pədişəhi bərıdı.
Xodavəndi ələm ona hiç oğul ata eləmamişdi.
Bədən vazirə dədi: «Ey vazir, məndə ki oğul yoxdı. Mən nə çarə eülem?»
Vazir dədi: «Padişai qıbləyi aləm, sən bu malıəmvalı nəyliyəsən?»
Translation
Thus, there was a padishah named Ziyad.
Almighty God had given him no son.
There he spoke to his vizier: "O Vizier, I have no son. What shall I do about it?"
The vizier said: "Ruler of the whole world, what will you do with this possession?"
Excerpt from Tulu (1989)
Details of the Khorasani Turkic alphabet supplied by Wolfram Siegel and Michael Peter Füstumum
Links
Information about the Khorasani Turkic language
https://en.wikipedia.org/wiki/Khorasani_Turkic_language
https://www.ethnologue.com/language/kmz
http://www.iranicaonline.org/articles/turkic-languages-overview
Turkic languages
Other languages written with the Arabic alphabet