Lanquanese and Lamezzian
Lanquanese /ˌlaŋ.kwaˈne.ze/ is a conlang devised by Anon with a structure based on French and looks and sounds based on Italian. Once he had created the language he started producing documents and literature, such as Lanquanese-English and English-Lanquanese dictionaries, Lanquanese in Three Months, excerpts from the Bible, the Lanquanese national anthem and a map of Lanquania.
Lanquanese can be written with versions of the Latin or Cyrillic alphabets, or with Lamezzian, an alphabet invented by Anon, who prefers to remain anonymous at the moment.
Notable features of the Lamezzian alphabet
Type of writing system: alphabet
Used to write: Lanquanese
Direction of writing: left to right
Alphabets for Lanqanese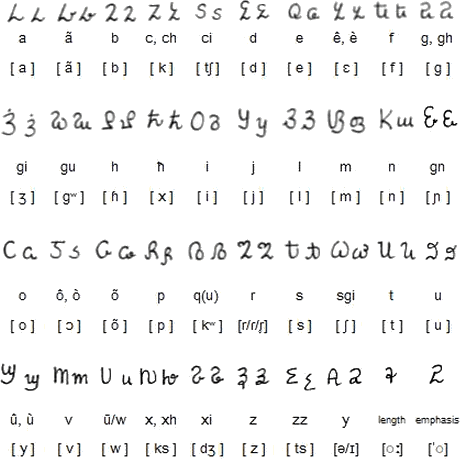 Sample texts
Sample text in Lanquanese in the Latn alphabet
Tuccì húmani soū né liberate e êquale en dignità e veri. Ole soū dué con razzone e consgenza e accîtarê verzzo un e l'aūtro nelo spirito di frêrena.
Sample text in Lanquanese in the Cyrillic alphabet
Tyкчи xýмaни coӯ нé либepaтe e эϙaлe eн дињитá e вepи. Oлe coӯ дyé кoн paцoнe e кoншeнзa e aкчитapэ́ вepцo yн e л'aӯтpo нeлo cпиpитo ди фpэpeнa.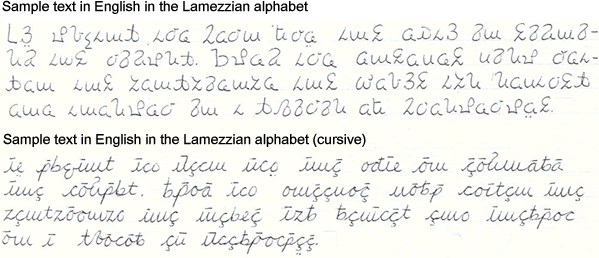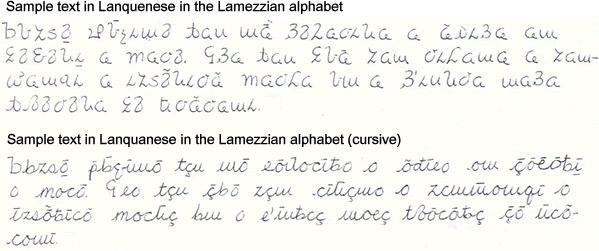 Translation
All human beings are born free and equal in dignity and rights. They are endowed with reason and conscience and should act towards one another in a spirit of brotherhood.
For more information about Lanquanese, please visit www.learnlanquanese.webs.com