Modern Shetlandic Scots (Shaetlan)
Modern Shetlandic Scots (MSS) is a variety of Insular Scots with Norn (Norroena) influences spoken in Shetland. It is variously known as Shetlandic, "da dialect", Shetland dialect, Shetland, Shetlan or Broad Shetland, which refers to stronger versions. MSS could also be classified as belonging to the Anglic subsection of the West Germanic branch of Indo-European languages, with many North Germanic influences.
MSS combines elements of Scots, English and Norn, the language which developed from the Old Norse bought to Shetland by the settlers from Norway in the early 9th century. After the islands came under Scottish control in the early 17th century, Scots and English became increasingly dominant. By the early 18th most Shetlanders were bilingual in Norn and Scots, and by the late 19th century Norn was no longer spoken, though Norn words continued to be used for such things as place-names, seasons, the weather, plants, animals, places, food, materials, tools, colours (especially of sheep or horses), moods and whims or 'unbalanced states of mind'.
Modern Shetlandic Scots pronunciation
There is no standard way of writing MSS and there are many variant spellings.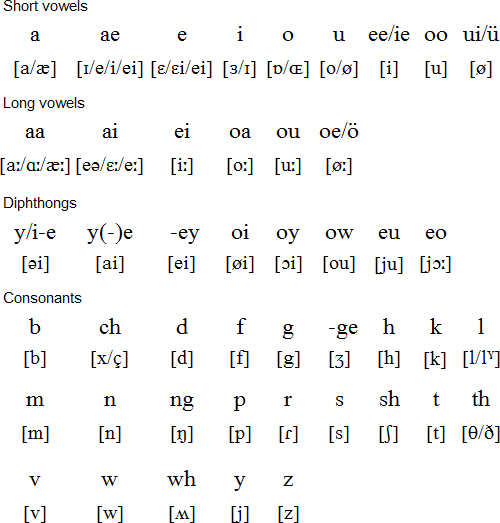 Sample text in MSS
Peerie cat, peerie cat, whaar's du been?
A'm been athin Lerook fae aer da streen.
Peerie cat, peerie cat, whaat saa du dere?
Mair dugs dan I lippened sae A'm gjaan nae mair.
Peerie Cat, a poem by Rhoda Bulter
Source: http://www.shetlanddialect.org.uk/peerie-cat-poem
Links
Information about MSS
http://shetlopedia.com/Modern_Shetlandic_Scots
http://www.scots-online.org/grammar/insular.htm
http://www.shetlanddialect.org.uk/
https://sites.google.com/site/shaetlan1/
https://sites.google.com/site/scotsthreip/site-guide/shetland
Online Shetland dictionary
http://www.shetlanddialect.org.uk/john-j-grahams-shetland-dictionary-intro
Northern and Insular Scots - recordings of regional dialect variants from Shetland, Orkney and northern parts of mainland Scotland: http://www.lel.ed.ac.uk/dialects/nis.html
Recorded samples of MSS
http://www.bl.uk/learning/langlit/sounds/text-only/scotland/lerwick/
Germanic languages
Afrikaans, Alsatian, Bavarian, Cimbrian, Danish, Dutch, Elfdalian, English, Faroese, Flemish, German, Gothic, Icelandic, Low German / Low Saxon, Luxembourgish, Norn, North Frisian, Norwegian, Old English, Old Norse, Pennsylvania German, Saterland Frisian, Scots, Shetland(ic), Swedish, Swiss German, West Frisian, Yiddish
Other languages written with the Latin alphabet