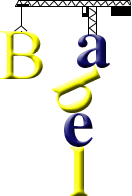 The Tower of Babel (Genesis 11: 1-9)
Shqip (Albanian - Tosk)
Por tërë toka fliste të njëjtën gjuhë dhe përdorte të njëjtat fjalë
Dhe ndodhi që, ndërsa po zhvendoseshin në drejtim të jugut, ata gjetën një fushë në vendin e Shinarit dhe u vendosën atje.
Dhe i thanë njëri tjetrit: "O burra, të bëjmë tulla dhe t'i pjekim me zjarr!". Dhe përdorën tulla në vend të gurëve dhe bitum në vend të llaçit.
Dhe thanë: "O burra, të ndërtojmë për vete një qytet dhe një kullë maja e së cilës të arrijë deri në qiell, dhe t'i bëjmë një emër vetes që të mos shpërndahemi mbi faqen e tërë dheut".
Por Zoti zbriti për të parë qytetin dhe kullën që bijtë e njerëzve ishin duke ndërtuar.
Dhe Zoti tha: "Ja, ata janë një popull i vetëm dhe kanë të gjithë të njëjtën gjuhë; dhe kjo është ajo që ata filluan të bëjnë; tani asgjë nuk ka për t'i penguar ata të përfundojnë atë që kanë ndërmend të bëjnë.
O burra, të zbresim pra atje poshtë dhe të ngatërrojmë gjuhën e tyre, në mënyrë që njëri të mos kuptojë të folurën e tjetrit".
Kështu Zoti i shpërndau mbi faqen e tërë dheut dhe ata pushuan së ndërtuari qytetin.
Prandaj këtij vendi iu dha emri i Babelit, sepse Zoti aty ngatërroi gjuhën e tërë dheut dhe i shpërndau mbi tërë faqen e dheut.
Hear a recording of this text by Plator Gashi
---
Shqyp (Albanian - Gheg)
Krejt bota tash e kishë ni guhë dhe ni fjalim t'njejtë.
Tu shku njerzia n'drejtimin e lindjës, ata e gjetën ni fushë n'Shinar dhe u vendosën aty.
Ata ja bajshin njani-tjetrit, "Pajeni, tet mbarojmë tulla dhe pi pjekim mirë." Ata përdoren tulla n'vend gurve, dhe katran për llaç.
Tani ata thanë, "Pajeni, t'le ta mbarojmë ni qytet tanë, me ni kullë qi i mbrijnë qiellt, për me bo emën; se ndryshe shpërndahemi nepër krejt faqen e botës."
Po Zoti zhdrypi për me pa qytetin dhe kullin qi ishin tue mbaru.
E Zoti tha, "Nese janë nis me bo kta, i bashkum si ni popull me njejtën guhë, tani ç'kat i merr mendja atyne me bo, kurrgjo nuk i pengon."
Pajeni, tet shkojmë poshtë m'i ja përzi guhën, ashtu qi s'munden me marr vesh njani-tjetrin."
Dhe Zoti i shpërndavi nepër krejt botën, dhe ata e ndalën ndërtimin e qytetit.
Për ç'ata thirret Babel - sepse Zoti aty ja përzivi guhën e krejt botës. Dhe prej atjeshit, Zoti i shpërndavi nepër faqen e botës.
Translated into the Gheg Albanian dialect of Kosovo by Granit Studenica
Hear a recording of this text by Granit Studenica
Information about Albanian | Phrases (Gheg) | Phrases (Tosk) | Numbers | Tongue twisters | Tower of Babel | Learning materials
Learn Albanian With EuroTalk Software
Other Tower of Babel translations
By language | By language family
---
If you need to type in many different languages, the Q International Keyboard can help. It enables you to type almost any language that uses the Latin, Cyrillic or Greek alphabets, and is free.
If you like this site and find it useful, you can support it by making a donation via PayPal or Patreon, or by contributing in other ways. Omniglot is how I make my living.
Note: all links on this site to Amazon.com
, Amazon.co.uk
and Amazon.fr
are affiliate links. This means I earn a commission if you click on any of them and buy something. So by clicking on these links you can help to support this site.