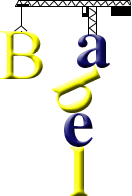 The Tower of Babel (Genesis 11: 1-9)
Anindilyakwa
Alingajirrirra-langwa alikira Babulena-manja
Biya adinuba-wiye-ka wurruwurrakakina warnumamalya wurribina nuw-ambilyu-murrumurra akini-yada nuw-ambilyumurra engka-manja iya engka-manja angalya, umba awilyaba-me-ka ngawa ayakwa ne-yengbeyinuma wurrakina.
Umba alyengmilyengma-langwa ngawa nuw-ambilyumurra. Biya kembirra arakba na-marrawarnuma nawurraki-likenuma wurrakina. Biya arakba narruwurrak-akburrangarna angakbilyuwalya angalya emikirra Babuleniya. Biya yakwujina arakba kembirra nawurrak-ambilyuma wurrakina-da.
Biya arakba kembirra wurruwurrakakina warnumamalya na-lyelyimbukweyinuma warniki-ngekburaki-yade-ka alikira. Ne-yama, "Ngarri-ngekburakina alikira amilyumilyinja-murra," ne-yama. Kembirra narri-ngambajuwama akina amilyumilyinja akungwa-ma. Kembirra narri-ngekburakama akina akwa narr-akumarnuma mardidarra-manja mamawura, ka-dakini-yada akwurraki-yada yanda-langwa akina na-kwurrakidinume-ka. Akwa ngarningka minyadirra makina narruma-wilyakama wurrakina. Biya narr-akumarnuma amurndakakina amilyumilyinja awilyuwilyaba-wiya, akwa ngawa minyadirra ngarningka narrum-akumarnuma wilyarra, kajungwa kuw-abalkayukwuni-yada arrubuda amurndakakina alikira. Biya kembirra narri-ngekburakama wurrakina alikira aburra-langwa amilyumilyinja-murra akina-da.
Biya nawurraki-yama wurrakina, "Kwa, ngarri-ngekburakina ababurna alikira. Umba awilyaba akina aki-ngekburakinama, akine-ka alingajirrirra aki-ngekburakinama. Nara amurndakeyina wuburra alikira e-yamama umba jujuje-ka alingajirrirra aki-ngekburakinama," wurrakina nawurraki-yama. "Enene-ka ngarri-ngayindenama aki-ngekburakinama alingajirrirre-ka, kajungwe-ka angubina-manja kuw-akburrangini-yada akina," ne-yama. Biya nawurraki-yama wurrakina, "Ngarruwurrakeyine-ka aduwaba ngarri-ngayindenama ngarringbudi-yade-ka ngarna aku-wilyakijeyini-yada, akwa ngarningka aka-wilyakajini-yada ngakwurra-langwa-manja wurrumirumirarrka ngarna ngarrumirumirarrngwa ngarrabarda warka akwa aringkawa. Ngarri-yaminamurra enena aduwaba kajungwa nari-yada angerriba iya angerriba awurra-murrkwuluma ngarruwurrakeyina, umba akuwurrak-ambilyi-yada ngawa awilyaba-murra-manja angalya," ne-yama.
Biya arakba wurrumurndakakina warnumamalya narri-ngekburakama ababurna eyukwayuwa alikira akwa ngawa akina awilyaba alingajirrirra-dangwa alikira. Eneja kembirra ni-dirrirnda angaluba nakina Yaweya kajungwa kenuwurraki-rringkini-yada wurruwurrakakinu-wa.
"Warne-ka wurruwilyaba-ma warnumamalya," ni-yama, "akwa awilyaba-me-ka ayakwa warna ne-yengbinama," ni-yama. "Wurrumurndakeyina adinuba-wiya enena alikira narri-ngekburakama. Akwa adinuba ngarningka awurrakibine-ka ngarningka akwala ke-yaminame-ka awurrakakina ngawa. Engka iya engke-ka ke-yaminama eningerribirra karri-ngayindena-manja," ni-yama.
Biya nakina Yaweya ni-yama ngarningka, "Ngakwurruwa kembirra aki-likajamurra arakba ngarna aki-dirrirndama akaminu-kuwarrukwajini-yada ayakwa aburra-langwa, nari-yada kembirra amin-engkirrikajajuma wurrumurndakakina," ni-yama nakina Yaweya.
Biya nakina Yaweya arakbe-ka ni-dirrirnda akwa nenumini-kuwarrukwaja aburra-langwa ayakwa akwa angerriba iya angerribe-ka nenuwurraki-larrkena wurrakina akina-manja angalya. Biya na-ngwanja kembirra wurrumurndakakina warnumamalya, nara karri-ngekburaka amurndakakina alikira-da.
Akine-ka angalya narri-yengbijuwama Babulena, mena yakwujina Yaweya nenuminu-kuwarrukwajuwa-mubaba nakina ayakwa, akwa akina ekirra Babulena ne-yamina-mubaba "nu-kuwarrukwajuwama ayakwa." Biya kembirra Yaweya nenuwurraki-larrkenumurra wurrumurndakakina warnumamalya yadikina engku-wa iya engku-wa angalya nakina-da. Kembirra aburraja na-ngwarndirriyinuma arakba wurrakina-da.
Source: http://aboriginalbibles.org.au/Anindilyakwa/frame_GEN11.htm
Contributed by Wolfgang Kuhl
Information about Anindilyakwa | Numbers | Tower of Babel
Tower of Babel in Arnhem languages
Anindilyakwa, Bininj Gun-Wok, Nunggubuyu
Other Tower of Babel translations
By language | By language family
[top]
---

Why not share this page:

If you like this site and find it useful, you can support it by making a donation via PayPal or Patreon, or by contributing in other ways. Omniglot is how I make my living.
Note: all links on this site to Amazon.com
, Amazon.co.uk
and Amazon.fr
are affiliate links. This means I earn a commission if you click on any of them and buy something. So by clicking on these links you can help to support this site.
Get a 30-day Free Trial of Amazon Prime (UK)
If you're looking for home or car insurance in the UK, why not try Policy Expert?
[top]