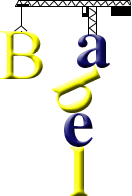 The Tower of Babel (Genesis 11: 1-9)
ᏣᎳᎩ / Tsalagi (Cherokee)
ᎠᎴ ᏒᎳᏂᎬ ᏌᏉᏉ ᎨᏐ ᎠᏂᏬᏂᏍᎬ, ᎠᎴ ᎤᏠᏱᏉ ᎨᏎ ᎠᏂᏁᎬᎢ.
ᎯᎠᏃ ᏄᏝᏍᏔᏁᎢ, ᎾᏍᎩ ᎠᎾᎢᏒ ᏗᎧᎸᎬ ᏅᏓᏳᎾᏂᎩᏛ, ᎤᏪᏓᎸ ᎤᏂᏩᏛᏔᏁᎢ ᎾᎿ ᎦᏙᎯ ᏌᎾ ᏚᏙᎥᎢ; ᎠᎴ ᎾᎿ ᏚᎾᏁᎳᏨᎢ.
ᎯᎠᏃ ᏂᏚᎾᏓᏪᏎᎴᎢ, Ꭷ, ᏗᏛᏓᏅᎯ ᏗᏙᏢᎾ, ᎠᎴ ᎣᏍᏛ ᏗᏗᏕᏴᏓ. ᏗᏛᏓᏅᎯᏃ ᏅᏍ ᏚᏂᏰᎸ-ᏎᎢ, ᏩᏖᎳᎨᏃ ᏝᏪᏚ ᎤᏂᏰᏎᎢ.
ᎯᎠᏃ ᏄᏂᏪᏎᎢ, Ꭷ, ᎢᏗᏚᎲᎦ, ᎠᎴ, ᎢᏅ ᎢᎦᏘ ᎢᏓᏐᏪᎦ, ᎠᎴ ᎾᏍᎩ ᎤᏍᎪᏝ ᎦᎸᎳᏗ ᏫᎦᏃ- ᏠᏨᎭ; ᎠᎴ ᏗᎦᏙᏍᏙᏗ ᎢᏙᏢᎾ, ᏒᎶᎯᏰᏃ ᏂᎬᎾᏛ ᏱᏓᏠᎦᎴᏲᎩ.
ᏱᎰᏩᏃ ᎤᏠᎠᏂᎴ ᎤᎦᏔᏂᎴ ᎦᏚᎲ ᎠᎴ ᎢᏅ ᎢᎦᏘ ᎤᎾᏐᏴᎢ, ᎾᏍᎩ ᏴᏫ ᎫᏁᏓ ᎫᎾᏐᏲᎴᎢ.
ᏱᎰᏩᏃ ᎯᎠ ᏄᏇᏎᎢ, ᎬᏂᏳᏉ, ᎯᎠ ᏴᏫ ᎤᏂᏠᏱᏉ ᎠᏂᏬᏂᏍᎬᎢ; ᎠᎴ ᎯᎠ ᎾᏍᎩ ᎤᎾᎴᏅᎭ ᎾᎾᏛᏁᎭ; ᎠᎴ ᎥᏝ ᎿᏉ ᎪᎱᏍᏗ ᎬᏩᏂᏲᏍᏙᏓᏁᏗ ᏱᎨᏐᏍᏗ, ᎾᏍᎩ ᎫᎾᏓ-ᏅᏖᎸ ᎢᏳᎾᏛᏁᏗᏱ.
Ꭷ, ᎢᏓᏠᎠᎯ, ᎠᎴ ᏣᎿᎫᏓᎴᏅᏛ ᏫᏂᎨᏛᏂᏏ ᎠᏂᏬᏂᏍᎬᎢ,ᎾᏍᎩ ᎫᎾᏙᏝᎢᏗᏱ ᏂᎨᏒᎾ ᏓᎾᏝᏃ-ᎮᏍᎬᎢ.
ᎾᏍᎩᏃ ᏱᎰᏩ ᏚᏗᎦᎴᏰ ᏒᎶᎯ ᏥᎬᎾᏛ ᎾᎿᎤᎾᏓᎴᏁᎢ; ᎠᎴ ᎤᏂᏛᏝᎪᎢ ᎠᏂᏚᎲᏍᎬᎢ.
ᎾᏍᎩ ᎢᏳᏍᏗ ᏓᏓᎶᏂ ᏚᏙᏒᎢ; ᏅᏗᎦᏝᏍᏙ-ᏗᏍᎨ ᏱᎰᏩ ᎾᎿ ᏧᏓᎴᏅᏛ ᏂᏚᏩᏁᎸ ᎡᎳᏂᎬ ᏓᏂᏬᏂᏍᎬᎢ; ᎠᎴ ᎾᎿ ᎤᏭᏓᎴᏅ ᏱᎰᏩ ᏚᏗᎦᎴᏴ ᏒᎶᎯ ᏂᎬᎾᏛᎢ.
Transliteration
Ale svlanigv saquoquo geso aniwonisgv, ale utloyiquo gese aninegvi.
Hiano nutlastanei, nasgi anaisv dikalvgv nvdayunanigidv, uwedalv uniwadvtanei nahna gadohi sana dudovi; ale nahna dunanelatsvi.
Hiano nidunadaweselei, ka, didvdanvhi didotlvna, ale osdv didideyvda. Didvdanvhino nvs duniyelv-sei, watelageno tlawedu uniyesei.
Hiano nuniwesei, ka, ididuhvga, ale, inv igati idasowega, ale nasgi usgotla galvladi wigano- tlotsvha; ale digadosdodi idotlvna, svlohiyeno nigvnadv yidatlogaleyogi.
Yihowano utloanile ugatanile gaduhv ale inv igati unasoyvi, nasgi yvwi guneda gunasoyolei.
Yihowano hia nuquesei, gvniyuquo, hia yvwi unitloyiquo aniwonisgvi; ale hia nasgi unalenvha nanadvneha; ale vtla hnaquo gohusdi gvwaniyosdodanedi yigesosdi, nasgi gunada-nvtelv iyunadvnediyi.
ka, idatloahi, ale tsahnagudalenvdv winigedvnisi aniwonisgvi,nasgi gunadotlaidiyi nigesvna danatlano-hesgvi.
nasgino yihowa dudigaleye svlohi tsigvnadv nahnaunadalenei; ale unidvtlagoi aniduhvsgvi.
nasgi iyusdi dadaloni dudosvi; nvdigatlasdo-disge yihowa nahna tsudalenvdv niduwanelv elanigv daniwonisgvi; ale nahna uwudalenv yihowa dudigaleyv svlohi nigvnadvi.
Information about Cherokee | Phrases | Numbers | Learning materials
Tower of Babel in Iroquoian languages
Other Tower of Babel translations
By language | By language family
---
If you need to type in many different languages, the Q International Keyboard can help. It enables you to type almost any language that uses the Latin, Cyrillic or Greek alphabets, and is free.
If you like this site and find it useful, you can support it by making a donation via PayPal or Patreon, or by contributing in other ways. Omniglot is how I make my living.
Note: all links on this site to Amazon.com
, Amazon.co.uk
and Amazon.fr
are affiliate links. This means I earn a commission if you click on any of them and buy something. So by clicking on these links you can help to support this site.