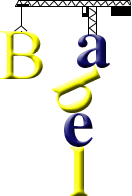 Alkawal Allah bee Nuuhu/The Tower of Babel (Genesis 11: 1-9)
Fulfulde (Fulani)
Too, Allah barkiɗini Nuuhu e ɓikkoy maako, wi'i ɓe: "Ndanye, ɗuuɗe, kebbine lesdi.
Kulol e kultoreeŋgol haa mooɗon laato dow dabbaaji e colli fuu. Ko waancata dow lesdi fuu, e liɗɗi fuu, mi hokki on ɗum haa juuɗe mooɗon.
Ko waancata, geetum fuu laatano on nyaamdu. Mi hokki on ɗum bana ndokkirmi on haako hecco.
Sey kusel bee yoŋki muuɗum, waato bee ?i?am muuɗum, taa nyaame ɗum.
Fakat, mi ?aman ?i?am mooɗon haa mbarɗo on. Mi ?aman ɗam haa ndabbaawa fuu, haa juŋŋgo neɗɗo mbarɗo ɗum.
Koomoy rufi ?i?am neɗɗo, ?i?am muuɗum rufe bee juŋŋgo neɗɗo, ngam Allah tagi neɗɗo dow jaati muuɗum.
Kadi onon, ndanye, ɗuuɗe masin haa lesdi, ɓesde dow maari."
Allah wolwani Nuuhu e ɓiiyiiko'en wonduɓe bee maako, o wi'i:
"Min kam, ndaa, mi haɓɓan alkawal bee mooɗon e danygol mon ɓaawo mooɗon,
Fulfulde (Ajamiya)
ٹٌويْمَ، دُنِيَارُ ڢُو وٌلْوِ طٍـمْنغَلْ غٌوتَلْ عٍ بٌلٍّ غٌوتٍ.
ندٍ يِمْٹٍ تٌکِّ لَاوٌلْ ڢُونَانغٍ، ٹٍــتَوِ ٸٌولْدٍ ندٍرْ لٍــسْدِ سِنٍــعَرْ، ٹٍــنجٌوطِ تٌنْ.
ٹٍــمبِعْمبِعْتِرِ ﹲمبَطٍـنْ بِرِکْجٍ، نغُلٍــنْ طٍ حَا طٍ شَاتَ.ﹰ ٹٍــفِٹْرِ بٍــى مَاجٍ بَنَ بٍــى کَاعٍ، ٹٍــکٌوعِ تَارِ لٍــسْدِ بٌو نغَمْ تَکِّنْدِرْغٌ طٍ.
ٹٍــمبِعِ ﹲسٍـيْ عٍنْ فِٹَ بٍــرْنِوٌلْ عٍ سُودُ تٌوْندُ. حٌورٍ مَارُ يٌتٌّ عَسَمَ، نغَمْ حَا مبَطَنٍــنْ کٌعٍ مٍىطٍـنْ عِنْدٍ، تَا عٍنْ شَنکِتٌ ندٍرْ دُنِيَارُ ڢُو.ﹰ
جَوْمِرَاوٌ جِڤِّ نغَمْ لَارَ بٍــرْنِوٌلْ عٍ سُودُ تٌوْندُ، طُمْ کٌ ٹِٹٍّ عَادَمَ فِٹِ.
عٌوِعِ ﹲندَا، ٹٍ لٍــفٌلْ غٌوتٌلْ، ٹٍــطٌنْ مبٌلْوَ طٍـمْنغَلْ غٌوتَلْ. کٌ ٹٍــکُووِ طٌ، طُمْ ڢُطٌّودٍ تَنْ. جٌنْتَ کَمْ، کٌ ٹٍ نُڢٌتٌ ڢُو، وَلَا کٌ حَطَتَ ٹٍ حُووُغٌ طُمْ.
نغَرٍ، عٍنْ نجِڤٌّ، عٍنْ نجِيٹَ حَالَ مَٹٍّ، تَا ٹٍــڤَامٌتِرَ. ﹰ
جَوْمِرَاوٌ سَنکِتِي ٹٍ دِغَ تٌنْ ندٍرْ دُنِيَارُ ڢُو، ٹٍ عَشِّ فِٹُغٌ بٍــرْنِوٌلْ.
نغٌلْ عٍوْنَامَ بَابِلَ ، نغَمْ حَا تٌنْ جَوْمِرَاوٌ جِيٹِ طٍـمْنغَلْ يِمْٹٍ دُنِيَارُ ڢُو، دِغَ تٌنْ بٌو عٌسَنکِتِ ٹٍ ندٍرْ دُنِيَارُ.
Source: Unbound Bible
Fulfulde:Adamawa
Suudu towndu haa Baabila
Nder wakkati maajum yimɓe fuu ɗonno mbolwa ɗemŋgal gootal e bolle goote.
Nde yimɓe ndilli gal fuunaaŋge, ɓe tawi waadiwol nder lesdi Sine'ar, ɓe njooɗi ton.
Ɓe mbi'mbi'tiri: "Mbaɗen birikje, ngulen ɗe haa ɗe caata." Ɓe nyiɓri bee maaje bana bee kaa'e, ɓe koo'i taari lesdi boo ngam takkindirgo ɗe.
Ɓe mbi'i: "Ndillen! Nyiɓen berniwol e suudu towndu, haa hoore suudu ndu'u yotto asama, ngam haa mbaɗanen ko'e meeɗen innde, taa en caŋkito nder duniyaaru fuu."
Jawmiraawo jippi ngam laarugo berniwol e suudu towndu, ko ɓiɓɓe Aadama nyiɓata.
O wi'i: "Ndaa, ɓe ummaatoore woore, ɓe ɗon mbolwa ɗemŋgal gootal. Ko ɓe ngaɗi ɗo, ɗum fuɗɗoode tawon. Jonta kam, walaa ko haɗata ɓe waɗugo ko ɓe nufoto fuu.
Ndillen, en njippo, en njiiɓa wolde maɓɓe, taa ɓe paampaamtira!"
Jawmiraawo saŋkiti ɓe diga ton nder duniyaaru fuu, ɓe acci nyiɓugo berniwol.
Ngam maajum ngol inndinaama Baabila, ngam haa ton Jawmiraawo jiiɓi wolde yimɓe duniyaaru fuu e diga ton boo o saŋkiti ɓe nder duniyaaru fuu.
Source: Laataanooji (Genesis). The Bible in Adamawa Fulfulde. Bible Society of Cameroon 2013
Information about Fula | Fula phrases | Adamaua Fulfulde | Adlam alphabet | Tower of Babel
Tower of Babel in Senegambian languages
Other Tower of Babel translations
By language | By language family
[top]
---

Why not share this page:

If you like this site and find it useful, you can support it by making a donation via PayPal or Patreon, or by contributing in other ways. Omniglot is how I make my living.
If you need to type in many different languages, the Q International Keyboard can help. It enables you to type almost any language that uses the Latin, Cyrillic or Greek alphabets, and is free.
Note: all links on this site to Amazon.com
, Amazon.co.uk
and Amazon.fr
are affiliate links. This means I earn a commission if you click on any of them and buy something. So by clicking on these links you can help to support this site.
[top]