The Tex Ritter Effect
by Clair Lasater
One legitimate T.E.F.L. (teaching English as a foreign language) device utilized worldwide is classroom playing of English-language C.D.'s and tapes. A female Aussie professor, at the university where I was employed recently, showed her English majors the celebrated film, High Noon.
I was thinking, yesterday and today, not about its plot, nor the theatrics, but the classic prelude, recorded by country-and-western marvel, Tex Ritter. I wonder that Ritter was selected to render "High Noon." At the time, most in the U. S. looked down on hillbillies. Surely, not many would have chosen this B-movie celebrity for the work. Yet, he recorded the theme and nailed it. Today, fifty years later, in China, university students listen to this classic and very many other popular U. S., Irish, and British strains to improve their oral English.
Early this evening, for relaxation, I enjoyed, through my desk-top computer deck, three Bob Dylan oldies; as well as "Act Naturally," (Buck Owens genius covered in (his very own), fun arrangement, by the Beatles), "It's Only Love," by the fabulous four, and "When Will I be Loved," an Everly Brothers blast-from-the-past.
English-language learning owns quite earnest priority, in China, just now, – Heilongjiang to Hainan, and Urumqi to Shanghai. College and university students take their English studies seriously – even to the point of standing around campus, each one alone, reciting books and lessons aloud.
I used this music method earlier, of course. I taught English in Chinese colleges and universities, and public schools, for ten years. In Beijing, students profited from the hearing of "Octopus's Garden," and "Act Naturally," ("They're gonna put me in the movies. They're gonna make a big star out of me."). At a college in Wuhan, I played my classes "When a Child is Born," "Stand By Your Man," and the Bee Gees' "I Started a Joke," along with a number of country hits off an album of fifty or so hayseed oldies, picked up there, at a curbside D.V.D. – C.D. sale. The Tammy Wynette platinum was especially popular – even requested, each class.
At Ling Ling University, (Hunan, Yongzhou), and at Shunde Polytechnic College, the Bee Gees again enhanced the scholars' English abilities. Students also enjoyed and profited from the Audrey Hepburn version of "Moon River," and Rolf Harris' monster masterstroke, "Tie Me Kangaroo Down." We studied the Crickets, and Fats Domino, Bob Dylan, Buddy Holly, and the Everly Brothers.
The lyrics are English and the history of each track is Western culture. One further justification of playing the music is the pleasant relaxing break provided a class period. (In China, the classes run back-to-back. Thus each encounter with every group runs two fifty or fifty-five minute sittings.) Lastly, I use these popular cuts in class to stave off complaints that my classes are boring. Even though long-winded Chinese teachers' lectures wax traditional, the Chinese university students, for whatever reasons, expect innovation and entertainment from foreign teachers. (I prefer tradition, myself.)
Whatever song I use, be it rock or country, or easy listening, it impacted America and, or, England, big, in its time. I grew up with my ear to the speaker(s) of radios and stereos, through grade school, high school, the Navy, and college. I know decades of the very best.
Lyrics for, (as well as downloadable original version recordings), of these hit renditions are available on the Internet. My first boss here in the Middle Kingdom suggested that I white out some of the words, to let the students fill them in for fun, and ear training. In any case, providing the students lyrics handouts works far better than just playing the music with no such helps.
I purchased a printer at each university billet to make better use of the school provided Internet computer. Ink cartridges cost big money. Therefore, I print one or two copies off the Internet, then head for one of the copier shops found just outside or close-by every college campus. The cost of these copies for all my classes is little, compared to the course and classroom interest they provide.
Don't get the wrong idea – I wasn't playing disc jockey. The classes are lecture, with some interaction. However, the use of Western pop, from Louis Armstrong, to Broadway theater standards, to Fifties rock-a-billy, to the Sixties British Invasion bubblegum and skiffle, Hollywood movie themes, Johnny Cash country, Tex Ritter or Sons of the Pioneers western, and Joan Baez folk, both relaxes, and provides great vocabulary and phraseology source for these serious, yet human, China university English-language-assimilating zealots.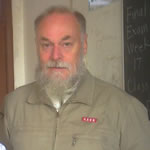 About the writer
Clair Lasater, Ph. D., was a Professor of English at Hainan University. He has lectured, also, at the Hunan University of Science and Engineering, the Youth Political College College in Beijing,(for Delter Business Institute), Maoming University, Zhangjiajie College of Jishou University, Guangdong Peizheng College, and Shunde Polytechnic.
He is published in the Guardian, The Telegraph, China Daily, The Times of India, and Omniglot – and, has authored nine TEFL related books.
Articles by Clair Lasater
Writing systems | Language and languages | Language learning | Pronunciation | Learning vocabulary | Language acquisition | Motivation and reasons to learn languages | Arabic | Basque | Celtic languages | Chinese | English | Esperanto | French | German | Greek | Hebrew | Indonesian | Italian | Japanese | Korean | Latin | Portuguese | Russian | Sign Languages | Spanish | Swedish | Other languages | Minority and endangered languages | Constructed languages (conlangs) | Reviews of language courses and books | Language learning apps | Teaching languages | Languages and careers | Being and becoming bilingual | Language and culture | Language development and disorders | Translation and interpreting | Multilingual websites, databases and coding | History | Travel | Food | Other topics | Spoof articles | How to submit an article
[top]
---

Why not share this page:

If you like this site and find it useful, you can support it by making a donation via PayPal or Patreon, or by contributing in other ways. Omniglot is how I make my living.
Note: all links on this site to Amazon.com
, Amazon.co.uk
and Amazon.fr
are affiliate links. This means I earn a commission if you click on any of them and buy something. So by clicking on these links you can help to support this site.
Get a 30-day Free Trial of Amazon Prime (UK)
If you're looking for home or car insurance in the UK, why not try Policy Expert?
[top]