New Era Update for the Centuries-Old Yiddish Language
Bernadine Racoma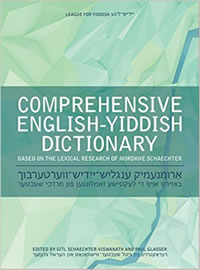 For nearly half a century, Yiddish-speaking English students have used the "Modern English-Yiddish/Yiddish-English Dictionary'' as their reference. With no recent updates, students in need of help have had to contract translation services to complete their assignments.
Now, for the first time, a new Yiddish-English resource guide is available, edited by Gitl Schaechter-Viswanath and Paul Glasser. It's a fitting publication, as the resource guide now includes thousands of new words, including those used by millennials, such as "texting," "transgender" and "email."
The Comprehensive English-Yiddish Dictionary from the University of Indiana Press, contains close to 50,000 entries and 33,000 sub-entries. It underscores Yiddish as a living language, which is still spoken by 1.5 million speakers around the world. The collection and research for the literary and spoken Yiddish language was led by the late Mordkhe Schaechter. The collection includes the language in all its varieties, leading to the publication of a present-day dictionary that reflects Schaechter's vision of today's and the future's usage of the Yiddish language.
Richness of the language
The dictionary shows the historical developments and dialect differences in the entries, which encompasses topics from agriculture to zoology. Other entries deal with expressions and words that are found in contemporary and classic literature, newspapers, online publications and other text sources that have been used for a long time in private life, at home, in synagogues and wherever there are Jews speaking the Yiddish language, including tradesmen and professionals. Even regional variations of the language are included in the new dictionary.
Facelift
The aim of the 826-page resource is to provide this ancient language with a facelift to make it adapt to the times – after all, it is a living language. It even led to the creators, Schaechter-Viswanath and Glasser, to invent new words, combining compound words with existing words in Yiddish. It's a production that's the result of very extensive research, with a lot of consultations with prominent members of Yiddish-speaking communities and the existing dictionaries and thesauruses still available.
An interesting inclusion in the new dictionary is flip-flops or ''fingershikh'' in Yiddish. It translates to "finger shoes." It was actually coined by Gitl Schaechter-Viswanath's sister, Rukhl Schaechter, when she was still a child. It was already adopted by the Yiddish community for a long time, and it's only now that it's going to get its official recognition.
Loan words
Just like many languages, Yiddish has provided the English language with several words, which the world continues to use. Here are some of them.
Chutzpah (khutspe), which in English means confidence or courage. However, for Yiddish speakers, it is not that complimentary because it means "brazen presumption," "extreme arrogance" or "nerve" to them.
Glitch (glitsh) means "nosedive," "skate'' or ''slip.'' It is the origin of the common American term for a minor error or problem.
Klutz (klots) literally is the term that means ''a wood block.'' In the English-speaking world, this is used as a term for an awkward, dense or clumsy person. Shlemiel is another Yiddish term that means the same thing.
Schlock means inferior, shoddy or cheap, while shmaltz, a word for grease or chicken fat, is now often used as an adverb – shmaltzy – to describe something that's corny, over-the-top or excessively sentimental.
The new Comprehensive English-Yiddish Dictionary is very well received, if the initial 1,200 copies that sold out quickly is to be a gauge. While this is a small feat, compared to other language dictionaries, it is still an achievement for a threatened language. There's another 1,000 editions currently in print, meaning response to the new resource is gaining momentum. When asked why he embarked on such a huge task, Schaechter-Viswanath said that it is something that he wanted to do for his children, the generations that will come after them, his colleagues and for himself. More importantly, he created this new dictionary for his father, an ardent linguist of their native language.
About the writer
Bernadine Racoma is a writer, researcher, professional and multi-awarded blogger and new media consultant. She brings with her a rich set of experience in the corporate world, as well as in the field of research and writing. Having taken early retirement after working as an international civil servant and traveling the world for 22 years, she has aggressively pursued her main interest in writing and research. You can also find Bernadine Racoma at Google Plus.
Information about Yiddish | Phrases | Numbers | Family words | Tower of Babel | Learning materials
Writing systems | Language and languages | Language learning | Pronunciation | Learning vocabulary | Language acquisition | Motivation and reasons to learn languages | Arabic | Basque | Celtic languages | Chinese | English | Esperanto | French | German | Greek | Hebrew | Indonesian | Italian | Japanese | Korean | Latin | Portuguese | Russian | Sign Languages | Spanish | Swedish | Other languages | Minority and endangered languages | Constructed languages (conlangs) | Reviews of language courses and books | Language learning apps | Teaching languages | Languages and careers | Being and becoming bilingual | Language and culture | Language development and disorders | Translation and interpreting | Multilingual websites, databases and coding | History | Travel | Food | Other topics | Spoof articles | How to submit an article
[top]
---

Why not share this page:

If you like this site and find it useful, you can support it by making a donation via PayPal or Patreon, or by contributing in other ways. Omniglot is how I make my living.
Note: all links on this site to Amazon.com
, Amazon.co.uk
and Amazon.fr
are affiliate links. This means I earn a commission if you click on any of them and buy something. So by clicking on these links you can help to support this site.
Get a 30-day Free Trial of Amazon Prime (UK)
If you're looking for home or car insurance in the UK, why not try Policy Expert?
[top]