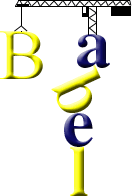 Babel nofɨ́lliraɨ (The Tower of Babel)
Huitoto (Mɨnɨka)
Aféruillaɨdo naan comɨ́nɨ daje uaido úritiaɨoɨ.
Jitoma birano énɨɨaɨ dɨbéndo íaɨoɨ jaillano, da íduaɨnidɨnomo baitíaɨoɨ, Sinar énɨemo; afénomo fɨébitiaɨoɨ dɨnomo íllena.
Daruina conímana daɨdíaɨoɨ: "Mai, énɨe nofɨ́licɨaɨ izói caɨ fɨnollɨ, daɨí ñeta caɨ ruillɨ." Daɨí nofɨ́cɨna oñeno énɨe rúijina otíaɨoɨ, íemo énɨemo ite jemecɨ otíaɨoɨ, temérnana.
Afe mei daɨdíaɨoɨ: "Omoɨ bi, mai jófuenɨaɨ caɨ fɨnollɨ íemo daa nofɨ́lliraɨ monamo dúcɨillena.Bie izói mámecɨ jɨca jalléillena daɨí íitɨcaɨza, mei daɨí bie énɨedo júdaɨziñeitɨcaɨza."
Mei íadɨ Juzíñamui ana bite; comɨnɨ fɨnoca jófuiaɨ íemo nofɨ́lliraɨ eróizaɨbite.
Afe jira comecɨ facade: "Afémacɨ daa ua ja bie táɨjɨna zóofenidiaɨoɨ,
Uáfuena, ana jáiredɨcaɨ afémacɨ uai féitallena, mei conímana cacáñellena."
Bie izóidedo Moo Juzíñamui afémacɨ nana bie énɨedo taiñode, afémacɨ jófuiaɨ fɨ́nuana zóofetiaɨoɨ.
Afénomo Moo afénomona comɨnɨ nana bie énɨedo raɨnode. Ie jira afe jófuiaɨ mámecɨ Babel.
Source: Resumen Panorámico del Antiguo Testamento de la Sagrada Biblia en el idioma Huitoto (dialecto Mɨnica). Wycliffe Bible Translators, Inc., 2014.
Contributed by Wolfgang Kuhl
Minica Huitoto is a Bora-Witoto language spoken mainly in Colombia in the Upper Igara-Paraná river area, along the Caquetá River at the Isla de los Monos, and the Caguán River near San Vicente del Caguán, and also in Peru.
More information about Huitoto
http://en.wikipedia.org/wiki/Minica_Huitoto
https://www.ethnologue.com/language/hto/
Other Tower of Babel translations
By language | By language family