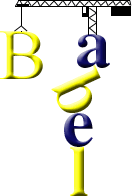 The Tower of Babel (Genesis 11: 1-9)
Northern Mam
Aju ja ma'xix twa'l tuj Babel
Tuj tk'ijlalil ojtxi junx yol ba'n cyu'n cycyakil xjal twitz tx'otx'.
Tej cyetz xjal tuj tjawitz k'ij o cnet jun chk'ajlaj cyu'n tuj tx'otx' Sinar, ex axtzun e najan.
E octzun ten yolil cyxolx ex cyma cyja': Ko', kbinchan cub lagriy, ex kk'o'ncx tuj k'ak' tu'n ttzk'ajset, che chi. Ajbentzun lagriy te t-xel abj, atzun aspalt ajben cyu'n te t-xel mescla.
Cymatltzun cyja': Kbinchan jaw jun tnam ex jun ja ma'xix twa'l ex japun pon twa'l max twitz cya'j, tu'n tcyaj jun nabl ke, ex tu'n mi'n kel sputj twitz tx'otx', che chi.
Cu'tztzun Kman que'yilte aju tnam ex aju ja ma'xix twa'l in banttok cyu'n ke xjal.
Tmatzun cyja': Lu ke xjal lu junx cytanmi, ax icx junx yol ba'n cyu'n; ma tzyet ak'untl lu cyu'n ex mlay che mayet ti'j ju in cub cyximan tu'n cybinchante.
Ja'lotzun ko', ko cu'x tzpet-salte cyyol tu'ntzun mi'n tel tnic' jun ti'j tyol juntl, chi Kman.
Ictzun tten e el t-sputun Kman ke xjal tuj tcyakil twitz tx'otx', ex cyaj cycolin ak'untl ti'j tnam.
Tu'ntzun jlu, Babel tbi tnam oc, tu'nju atzun cub ttzpet-sa'n Kman cyyol cycyakil xjal. Tujtzun tnam lu e je'l t-sputun tuj tcyakil twitz tx'otx'.
Source: The Bible in Northern Mam. Sociedad Bíblica de Guatemala, 1993.
Contributed by Wolfgang Kuhl
Northern Mam, which is also known as Huehuetenango Mam, is a Mayan language spoken in southern Huehuetenango Department of Guatemala.
More information about Northern Mam
http://www.ethnologue.com/18/language/mam/
http://en.wikipedia.org/wiki/Mam_language
Tower of Babel in Mayan Languages
Aguacateco, Ch'ol of Tila, Ch'ol of Tumbalá, Chuj, Kaqchikel, K'iche', Northern (Huehuetenango) Mam, Poqomchi', Q'anjob'al, Q'eqchi', Quetzaltenango Mam, Southern Mam, Tzeltal, Tzotzil, Yucatec Maya
Other Tower of Babel translations
By language | By language family