Golem script
The alphabet below appears in Golem by Greg Vilk, a novel set in Greenland in 1942 in which "...an ancient script holds the key to a deadly power." The alphabet appears at the beginning of each chapter and is an elaborate cipher.


"Half of man's wisdom is knowing where it ends"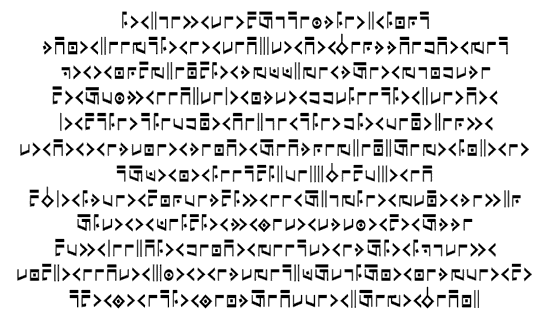 Buy Golem from: Amazon.com or Amazon.co.uk
Note
If you look closely at the cover of the book, ideally with a magnfying glass, you'll see the word Golem written in the Golem script and in Hebrew. This was discovered by Cody Gordon.
Golem Script Cracked
On 20th February 2006 Jeremy Brown (CA, USA) cracked the ancient script shown in the book "Golem" and claimed the $100 prize. Jeremy is a programmer at Biola University. He has a master's degree in linguistics, he's done Bible translation work and he has a knowledge of biblical Hebrew and ancient Greek.
At www.gregvilk.com you'll find his thrilling account of the decipherment, which reads like Howard Carter's recounting the discovery of the tomb of Tutankhamen. OK, maybe not quite as thrilling, but the step-by-step, gory details of how the script was broken are bound to tickle the wannabe code breaker in you. Read how his wife decided to stay up late at night to help him painstakingly build the character charts, once they've agreed to "split the loot."
The decipherment does not mark the end of the mystery. The lines decrypted by Jeremy form the basis for yet another cipher. That's right: the book contains a cipher within a cipher. The next contest has begun. Details on the web site: www.gregvilk.com