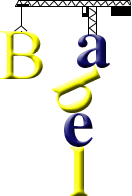 The Tower of Babel (Genesis 11: 1-9)
This a version of the Tower of Babel story in Standard Okinawan (Shuri dialect) translated by Arben Anthony Saavedra, and corrected by Professor Yoshiaki Funazu (船津好明) a native speaker of Okinawan.
沖縄口 / ウチナーグチ / Uchinaaguchi (Okinawan)
うぬ頃、人間諸ゆぬ言葉話ちょいびたん。
人ぬ数ぬたった多く成てぃ、人ぬ達や東むてぃんかい歩ちゃびたん。かんしバビロンぬ地んかいと原見当てぃてぃ、多人数ぬあまをぅてぃ暮らする如成いびたん。
やがてぃ、まぎさる村造らんでぃ言る話ぬ持上がやびたん。かま後ぬ世までぃん残する建物とぅっし、天んかいん届ちゅんねするしじ高さる建物造てぃ、胴な達力見しりわとぅやるんでぃ言るむんやいびん。
「くん如っし力合ち働ちね、あまくまんかい散らさりる心配ん無らん筈。」んでぃあびやに、人ぬ達やゆ焼ちゃる硬煉瓦高く高く積み、アスファルト集みてぃモルタル 代いさびたん。
御神降りてぃめんそち、人ぬ達ぬ造とる村とぅ高さる建物御見掛きみせびたん。
さってぃむ、何んでぃ言ちゃるが。ゆぬ言葉使てぃ政治むてぃん肝合しね、人間くっぴぬ事ん易々とぅとぅじみゆん。あんどぅんやれ、後如何ん如る事すがむさっとぅ 分からん。何やてぃん成いる筈。
「くん如成いね、地んかい降りてぃ行じ、彼達ぬ話そる言葉取い散らかしわとぅやる。あんしね、互に何言ちょが解らん成ゆん。」
かんし、御神人間世界ぬあまくまんかい散らさびたん。な村造いゆさびらん。
くぬ都ぬ名ぬバベル〔「やまちり事」ぬ肝合〕んでぃ呼ばりたしぇ、くぬ故やいびん。言どぅんせ、満どる言葉呉みそちゃる御神ぬ、人間取い散らかちゃしが くぬバベルぬ地やたるむんやいびん。
Transliteration
This transliteration is in the romanization system used by the Ryukyu University.
ˀUnu kuru, NiNziNoo muru ˀyunu kutuba hanacooibiitaN.
Qcunukazi nu tatta ˀufuku nati, cunucaaja ˀagari mutiNkai ˀacabitaN. KaNsi babiron nu jiiNkai toobaru mi ˀatiti, ˀufuNiNzu nu ˀamakuma wuti kurasisuru gutu naibitaN.
ˀjagati, magisaru mura cukura ˀNdi juru hanashi nu mucagajabitaN. Kaama ˀatu nu ˀju madiN nukusuru tatimuN tuQsi, tiNuNkaiN tuducuN neesuru sizi takasaru tatimuN cukuti, duunaataa cikara misiwa du ˀjaru ˀNdi juru muN ˀjaibiiN.
"KuNgutuQsi cikara ˀaaci hataraciinee, ˀamakumaNkai cirasariiru siwaN neeraN hazi." ˀNdi ˀabijaani, cunucaaja ˀjuu ˀjacaru kufarenga takaku takaku cimi, ˀasufaruto ˀacimiti morutaru kaaisabitaN.
ˀukamee ˀuriti meNsooci, cunuchaa nu cukutooru mura tu takasaru tatimuN ˀumikakimiseebiitaN.
saQtimu, nuu ˀNdi ˀicharuga. ˀjunu kutuba cikati siizi mutiN cimueesiinee, NiNziNoo kuQpi nu kutuN ˀjasi ˀjasi tutuzimiyuN. aNduN ˀjaree, ˀatu caaN gutooru kutu suga musaQtu wakaraN. Nuu ˀjatiN nairu hazi.
"kuNgutu nainee, ziiNkai ˀuriti ˀNji, ˀaQtaa nu hanasooru kutuba tuicirakasi wa du ˀjaru. ˀaNsiinee, tagee ni nuu ˀichooga wakaraN najuN."
kaNsi, ˀukamee NiNziN sikee nu amakumaNkai cirasabitaN. naa muraa cukuijuusabiraN.
Kunu miyaku nu naa nu baberu (jamacirigutu nu cimuee) ˀNdi ˀjubaritasee, kunu ˀjui ˀjaibiiN. ˀiiduNsee, maNdooru kutuba kwimisoocaru ˀukami nu, NiNziN tuicirakacasiga kunu baberu nu zii ˀjataru muN ˀjaibiiN.
---
If you need to type in many different languages, the Q International Keyboard can help. It enables you to type almost any language that uses the Latin, Cyrillic or Greek alphabets, and is free.
If you like this site and find it useful, you can support it by making a donation via PayPal or Patreon, or by contributing in other ways. Omniglot is how I make my living.
Note: all links on this site to Amazon.com
, Amazon.co.uk
and Amazon.fr
are affiliate links. This means I earn a commission if you click on any of them and buy something. So by clicking on these links you can help to support this site.