Heļagana (へら°がな - හෙළගන)
Heļagana is an adaptation of the Japanese kana syllabaries to write Sinhala devised by Rukshan Karannagoda (රුක්ෂාන් ​ කරන්නාගොඩ). The name combines the native name of Sinhala, හෙළ (heļa) with the Japanese かな (kana). Rukshan Karannagoda's goal was to write Sinhala exactly as it is pronounced and to type it in a relatively straight-forward way. Thus, the adaptation uses both the hiragana and katakana syllabaries, which renders them un-interchangeable as the sound changes with the syllabary.
Notable features
Type of writing system: syllabary
Direction of writing: left to right in horizontal lines
Used to write: Sinhala
Can be used to write the sounds of the entire නුමුසු (numusu - unmixed) abugida of Sinhala which includes the 5 prenasalised consonants ඟ (n̆ga), ඦ (n̆ja), ඬ (n̆da), ඳ (n̆đa), ඹ (mba), plus three foreign sounds.
Computer friendly and can be typed with almost only Japanese IME, with the exception of the degree sign (°) that is used as a substitute for the Japanese marker handakuten (◌゚). The ゜character can also sometimes be typed in Japanese IMEs by pressing the single quotation mark (').
Characters such as か゚ (nga),ヰ (wi) and ヱ (we) are not used as it is harder to type and not commonly recognized.
Za and ja sounds treated as one, as in Korean 자 (ja), and chi (ち), tsu (つ), ji (ぢ), dzu (づ) and shi (し) are treated as ti, tu, di, du, and si as well as their retroflex counterparts.
Uses more Hiragana characters than Katakana to maintain the Sinhala-esque aesthetic of preferring rounded letters.
Uses the "ー" mark to lengthen vowel sounds throughout the script.
Heļagana script
Heļagana Vowels
The 12 vowels of the numusu (නුමුසු) alphabet are represented below, preceded by the Sinhala characters that they represent.
The little 'e' (ぇ) is used as the 'æđaya' (ැ) in the Sinhala abugida. [අ (あ) + ැ (ぇ) = අැ (あぇ)]
The musu (මුසු) vowel sounds ai (‍ඓ) and au (ඖ) can be represented as either あイ (අයි) and あゔ/ウ (අව්/වු) or あぃ and あぅ, to avoid confusions. However, both of the corresponding sounds are pronounced the same.
The musu vowel "ṛ (ඍ)" can be represented as r, ri or ru, as the pronunciation changes with the context.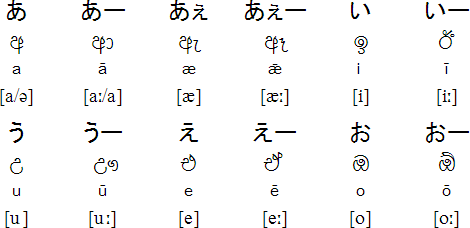 Heļagana Consonants
Most of the consonants are mapped considering their Japanese sound-alikes, but some are mapped considering either the ease of recognition or the ease of typing.
Three musu consonants (ṡa,ṣa and fa) are included as they have entered everyday speech as slang et cetera.
The five prenasalised consonants are treated as individual characters, as they are treated in Sinhala.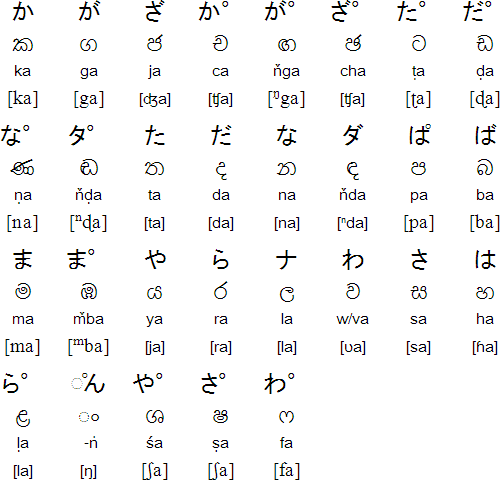 The above consonants will be utilized in the syllabary as this;
Note: The standalone forms of the five prenasalised consonants (ඟ්, ඦ්, ඬ්, ඳ්, ඹ්) are never used in any text.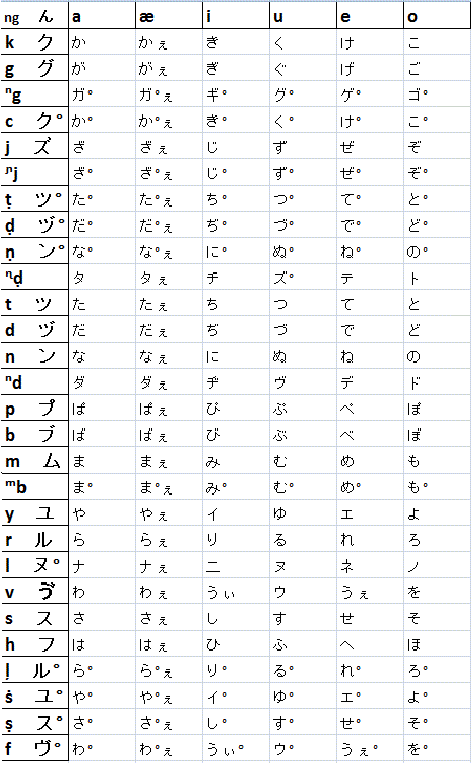 Some prenasalised consonants deviate from their designated kana forms in order to incorporate the standalone or 'hal (හල්)' consonants more easily.
Mæđiđesakuru (中國字)
The word 'Mæđiđesakuru' is a combination of the words 'mæđi (මැදි) = middle', 'đes (දෙස්) = kingdom' and 'akuru (අකුරු) = letters', meaning 'Chinese Characters'.
As in Japanese, Chinese characters can also be used to write words, especially those that are of Sanskrit origin or are 'tatsama' very quickly and shortly.
Instead of having corresponding sounds, Mæđiđesakuru have corresponding ideas or Sanskrit root words which can be added together to make meaningful words.
e.g. The Mæđiđesakuru word for 'Brotherhood = sahōdaratvaya = 伴胃格や' is a combination of its Sanskrit root words saha (伴-co-), udara (胃-belly) and tva (格-state of being) plus the Sinhala suffix 'ya (や)'.
However, Mæđiđesakuru can also be used with tadbhava and nipan (native) words as in Japanese to shorten the number of characters used.
e.g. The characters 吃 (kana = eating) and 喝 (bona = drinking) can be utilized as shown below;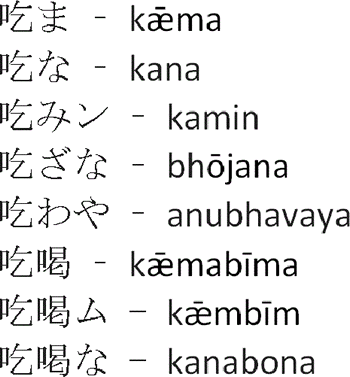 A full list of all usable Mæđiđesakuru has not been made yet.
Sample text
Heļagana (へら°がな)
しやヌ まぬし°ゃよー にだはスわ うぱた ナばー あぇた。 がるツわエン はー あイちわーしかムわ二ン さまーな うぇち。ゆクち あゆクち ぴり°ばダ はぇギ°ーめン はー はルださークし°エンゆツ おゔン、おゔのゔンた° さぇら°きや ゆってー さほーだらツわやぴり°ばダ はぇギ°ーめに。
Heļagana and mæđiđesakuru (中國字-まぇぢでさくる-මැදිදෙසකුරු), Chinese characters
都 人よー 自由わ 誕 得ばー あぇた。尊格エン はー 權利かムわ二ン平 うぇち。正 あ正 抗於 はぇギ°ーめン はー 心憑エン 含ツ 他ン、他他ンた° さぇら°きや 含てー 伴胃格や 抗於 はぇギ°ーめに。
Sinhala script version
සියලු මනුෂ්‍යයෝ නිදහස්ව උපත ලබා ඇත. ගරුත්වයෙන් හා අයිතිවාසිකම්වලින් සමාන වෙති. යුක්ති අයුක්ති පිළිබඳ හැඟීමෙන් හා හෘද සාක්ෂියෙන් යුත් ඔවුන්, ඔවුනොවුන්වුන්ට සැළකිය යුත්තේ සහෝදරත්වය පිළිබඳ හැඟීමෙනි.
Transliteration
Siyalu manuṣyayō nidahasva upata labā æta​. Garutvayen hā ayitivāsikamvalin samāna veti. Yukti ayukti piḷiban̆da hæ​​n̆gīmen hā hṛda sākṣiyen yut ovun, ovuno​vunṭa sæḷakiya yuttē sahōdaratvaya piḷiban̆da hæn̆gīmeni.
Translation
All human beings are born free and equal in dignity and rights. They are endowed with reason and conscience and should act towards one another in a spirit of brotherhood.
(Article 1 of the Universal Declaration of Human Rights)
Information about Sinhala | Phrases | Numbers | Tower of Babel | Learning materials
Constructed scripts for: Ainu | Arabic | Chinese languages | Dutch | English | Hawaiian | Hungarian | Japanese | Korean | Malay & Indonesian | Persian | Russian | Sanskrit | Spanish | Tagalog | Taino | Turkish | Vietnamese | Welsh | Other natural languages | Colour-based scripts | Tactile scripts | Phonetic/universal scripts | Constructed scripts for constructed languages | Adaptations of existing alphabets | Fictional alphabets | Magical alphabets | A-Z index | How to submit a constructed script
[top]
---

Why not share this page:

If you like this site and find it useful, you can support it by making a donation via PayPal or Patreon, or by contributing in other ways. Omniglot is how I make my living.
Note: all links on this site to Amazon.com
, Amazon.co.uk
and Amazon.fr
are affiliate links. This means I earn a commission if you click on any of them and buy something. So by clicking on these links you can help to support this site.
Get a 30-day Free Trial of Amazon Prime (UK)
If you're looking for home or car insurance in the UK, why not try Policy Expert?
[top]