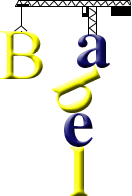 The Tower of Babel (Genesis 11: 1-9)
සිංහල (Sinhala)
මුළු පොළොවෙහි එකම භාෂාවක්ද එකම කථා ක‍්‍රමයක්ද විය.
තවද ඔව්හු නැගෙනහිර දිසාවට ගමන් කරන අතර ෂිනාර් නම් දේශයෙහි සම භූමියක් සම්බවී එහි වාසය කළෝය.
ඔව්හු එකිනෙකාට කථාකොට; වරෙල්ලා, අපි ගඩොල් සාදා හොඳට පුළුස්සමුයයි කීවෝය. ගල් වෙනුවට ගඩොල්ද බදාම වෙනුවට කීල්ද ඔවුන්ට තිබුණේය.
ඔව්හු: වරෙල්ලා, මුළු පෙළෝතලයෙහි අප විසිර නොයන පිණිස නුවරක්ද අහස දක්වා මුදුනක් ඇති කොටුවක්ද ගොඩනගා අපට නාමයක් සාදා ගනිමුයයි කීවෝය.
එවිට මනුෂ්‍ය පුත‍්‍රයන් ගොඩනගන නුවරද කොටුවද බලන පිණිස ස්වාමීන්වහන්සේ බැස්ස සේක.
ස්වාමීන්වහන්සේද: බලව, ඔව්හු එක සෙනඟක්ය, ඔවුන් සියල්ලන්ට ඇත්තේ එක භාෂාවක්ය; ඔවුන් කරන්ට පටන්ගන්නා දේ මේය; ඉදින් ඔවුන් කරන්ට අදහස්කරන කිසිවක් ඔවුන්ට දුෂ්කර නොවන්නේය.
යමු, අපි බැස ඔවුන්ට එකිනෙකාගේ කථාව නොතේරෙන ලෙස එහි ඔවුන්ගේ භාෂාව අවුල්කරමුයයි කීසේක.
මෙසේ ස්වාමීන්වහන්සේ එතැනින් මුළු පොළෝතලයෙහි ඔවුන් විසිරෙවු සේක.
ඔව්හුද නුවර ගොඩනැගීම අත්හැරියෝය. එහිදී ස්වාමීන්වහන්සේ මුළු පොළොවේ භාෂාව අවුල්කළ බැවින් ඊට *(අවුල්කිරීම) බාබෙල් නම් විය. එතැනින් ස්වාමීන්වහන්සේ මුළු පොළෝ තලයෙහි ඔවුන් විසිරෙවුසේක.
Transliteration
Musu posovehi ekama bhāṣāvakda ekama kathā kramayakda viya.
Tavada ovhu nægenahira disāvaṭa gaman karana atara ṣinār nam daṣśayehi sama bhūmiyak sambavī ehi vāsaya kasōya.
Ovhu ekinekāṭa kathākoṭa; varellā, api gaḍol sādā hoňḍaṭa pusussamuyayi kīvōya. Gal venuvaṭa gaḍolda badāma venuvaṭa kīlda ovunṭa tibuṇaṣya.
Ovhu: varellā, musu pesōtalayehi api visira noyana piṇisa nuvarakda ahasa dakvā mudunak æti koṭuvakda goḍanagā apiṭa nāmayak sādā ganimuyayi kīvōya.
Eviṭa manuṣ‍ya put‍rayan goḍanagana nuvarada koṭuvada balana piṇisa svāmīnvahansaṣ bæssa saṣka.
Svāmīnvahansaṣda: balava, ovhu eka senaňgakya, ovun siyallanṭa ættaṣ eka bhāṣāvakya; ovun karanṭa piṭangannā daṣ maṣya; idin ovun karanṭa adahaskarana kisivak ovunṭa duṣkara novannaṣya.
Yamu, api bæsa ovunṭa ekinekāgaṣ kathāva notaṣrena lesa ehi ovungaṣ bhāṣāva avulkaramuyayi kīsaṣka.
Mesaṣ svāmīnvahansaṣ etænin musu posōtalayehi ovun visirevu saṣka.
Ovhuda nuvara goḍanægīma athæriyōya. Ehidī svāmīnvahansaṣ musu posovaṣ bhāṣāva avulkasa bævin īṭa *(avulkirīma) bābel nam viya. Etænin svāmīnvahansaṣ musu posō talayehi ovun visirevusaṣka.
Information about Sinhala | Phrases | Numbers | Tower of Babel | Learning materials
Tower of Babel in Indo-Aryan languages
Assamese, Awadhi, Bengali, Fijian Hindi, Gujarati, Hindi, Konkani, Maldivian, Marathi, Nepali, Odia, Punjabi, Sanskrit, Sarnámi Hindustani, Sinhala, Sylheti, Urdu
Other Tower of Babel translations
By language | By language family
---
If you need to type in many different languages, the Q International Keyboard can help. It enables you to type almost any language that uses the Latin, Cyrillic or Greek alphabets, and is free.
If you like this site and find it useful, you can support it by making a donation via PayPal or Patreon, or by contributing in other ways. Omniglot is how I make my living.
Note: all links on this site to Amazon.com
, Amazon.co.uk
and Amazon.fr
are affiliate links. This means I earn a commission if you click on any of them and buy something. So by clicking on these links you can help to support this site.