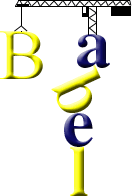 The Tower of Babel (Genesis 11: 1-9)
Guerrero Nahuatl
On torre yejuan itoka Babel
1. Ipan on tiempo nochimej on tlakamej yejuan nemiyaj ipan in tlaltikpaktli okipixkej san sen imintlajtol.
2. Niman ijkuak okiskej ne kampaka ikisayan tonaltsintli, okinextijkej sen ixtlauatl ipan on tlajli itoka Sinar, niman ompa onokajkej on tlakamej.
3-4. Kemaj se tonajli yejuamej okinojlijkej: "Xuajlakan, ma tikchijchiuakan sen ueyikalpan niman sen ueyi torre yejuan ajsis hasta ipan cielo. Ijkon nochimej techixmatiskej ika tiueyixtokej. Niman ijkon xok nonekis titoxexeloskej niman tiaskej sa kanika ipan tlaltikpaktli. Ma tikchijchiuakan tabiques niman ma tikikxitikan kuajli ipan tlitl." (Yejuamej xokuikej tetl, yej okuikej tabiques de sokitl. Niman okipepechojkej ikan chapopojtli.)
5. Pero toTEKO ouajtemok para otlachako ipan on ueyikalpan, niman no okitako on torre yejuan on tlaltikpaktlakamej kichijchiuayaj.
6. Kemaj toTEKO onokuep ne iluilkak niman okinojlij: "On tlakamej nemij san seknek, niman kipiyaj san sen imintlajtol. Ijkon tej, tla yejuamej aman kichijchiuaj in torre ken kinekij, sakin uelis kichijchiuaskej nochi san tlen yejuamej kinekiskej.
7. Más kuajli para titemoskej niman tikimpatiliskej imintlajtol para ijkon xok ueliskej notenkakiskej."
8. ToTEKO ijkon okichiu para okiteltij imintekiu niman xok okichijchijkej on ueyikalpan. Niman ijkon okinchajchayau on tlakamej nochiuiyan ipan tlaltikpaktli.
9. Niman on ueyikalpan okitokayotijkej Babel  Ijkon itoka pampa ompa toTEKO okipatlak imintlajtol nochimej on tlakamej yejuan nemij ipan in tlaltikpaktli para xok ouelkej onotenkakkej. Niman de ompa, toTEKO okinchajchayau nochiuiyan ipan tlaltikpaktli.
11.9 Babel kijtosneki: "kampa xouelkej notenkakij se iuan okse".
Source: Génesis. The Bible in Náhuatl de Guerrero. La Liga Bíblica - 2014.
Contributed by Wolfgang Kuhl
Guerrero Nahuatl is a Nahuatl language spoken in the Mexican state of Guerrero in the centre of Mexico by about 150,000 people.
More information about Guerrero Nahuatl
http://en.wikipedia.org/wiki/Guerrero_Nahuatl
http://www.ethnologue.org/language/ngu
Tower of Babel in Uto-Aztecan Languages
Central Huasteca Nahuatl, Eastern Huasteca Nahuatl, Western Huasteca Nahuatl, Guerrero Nahuatl
Other Tower of Babel translations
By language | By language family