The Tower of Babel (Genesis 11: 1-9)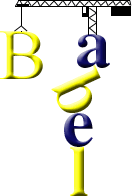 Musey
Zira fiyekka Babella
Jewni suu hu ndaŋgarana halaŋ ɓakŋi vun ma dewna, boy masina ni dew lay.
Jokka asi jok usira ni asi fi li ma jivina ii u maɗiina hu mbassa Sinearra, asi kak huwa.
Asi ɓak duk tasi ana, «Mbaygi hu sunda, caygi birikka cini gaygira ki u kura.» Asi li sunda u birikka a min zina ni ko ɦinira na. Asi tiniɗ u bitumma, ni ko simora na may.
Asi di duk tasi ana, «Tuɗuygi, laygi sunda, miniygi zira fiyekka, yaɗ tuɗ do ay ki kolo huulona, ni aygi hin fi ŋgara. Ni aygi ka hin njay ki kay ndaŋgara oloɗi.»
Yawe cuk ay kaŋga a gol ɦoŋzi ma ŋgolna u zira fiyekka suuna miniɗta.
Ŋgoo dagan Yawe di ana, «Suuna ca ni suu dewna, ɓakŋi vun ma dewna lay, ni sun masira jewra ɦawaa, va ma asi min a lamma ŋgoo dagan va doorosi kaɗi.
Ɓaygi kaŋga mbuɗuygisina vunusi ki zeɗ zeɗ, hin a gege lay hum vun ma vi ndarammana oloɗi.»
Yawe njaysi ki kay ndaŋgara halaŋ, asi hin minda min zira fiyekka u ɦoŋzina ni na gaw.
Kay ndaɗta sem zi namma asi mbuɗ yam ana Babel, ni li ma Yawe mbuɗ vun suuna ay ki zeɗ zeɗ huna. Ay hu li namma Yawe njay suu warna ki kay yam ndaŋgara halaŋ.
Source: Ura Tin Ayra (Genesis). Boy Lonana. The Bible in Musey Language. Alliance Biblique du Tchad, 2002.
Contributed by Wolfgang Kuhl
Musey is a member of the Chadic branch of Afroasiatic languages spoken in Chad and Cameroon by about 230,000 people.