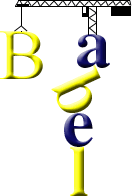 The Tower of Babel (Genesis 11: 1-9)
South Bolivian Quechua (Uralan Buliwya runasimi)
Chay tiempopi tukuy runas uj parlayllata parlaj kanku.
Maypachachus inti llojsimuynejmanta llojsimorqanku chaypacha, tarerqanku uj pampata Sinarpi, chaypitaj qhepakorqanku unayta tiyakunankupaj.
Ujpacha ninakorqanku paykunapura: Ladrillosta ruwanachej ninapi chayachispa, nispa. Chayta ruwarqanku rumej cuentanmanta, mach'ata chhajwatawan chajruykuspa.
Chaymantataj ninakorqanku: Kunanqa ruwanachej uj llajtata, uj torretawan janaj pachaman chayanampaj. Ajinamanta noqanchej sumaj atiyniyoj nisqa kasunchej, amataj tukuynejman ch'eqerananchejpaj, nispa.
Tata Diostajrí urayk'amorqa chay llajtata qhawarej, runaspa ruwasqanku, chay torretawan.
Chantá Pay nerqa: Runasqa kunan sumaj ujchasqa kashanku, uj parlayllatataj parlanku; jinamanta kaytaqa ruwanku. Jinaqa kunanmantaqa imatachus munasqankuta ruwallanqankuña.
Kunanqa jaku, urayk'unachej parlayninkuta chajroj, parlasqankuta ama entiendenakunankupaj, nispa.
Ajinata Tata Diosqa tukuynejman paykunata ch'eqeracherqa. Paykunataj chay llajtata ruwayta saqeporqanku.
Chay cheqapi Tata Dios chajrurparerqa runaspa parlayninkuta tukuynin kay pachapi, chaynejmantataj paykunata tukuynejman ch'eqeracherqa. Chayrayku chay llajtajta sutin karqa Babel.
Source: El Antiguo Testamento en lengua Quechua Boliviano. Sociedad Biblica Boliviana, 1993.
Contributed by Wolfgang Kuhl
South Bolivian Quechua is a Quechua language spoken in parts of Bolivia and Argentina.
More information about South Bolivian Quechua
http://www.ethnologue.org/language/quh
http://en.wikipedia.org/wiki/South_Bolivian_Quechua
Tower of Babel in Quechuan Languages
Ayacucho Quechua, Cañar Highland Quechua, Cusco Quechua, Kichwa, Quechua del Huallaga, Quichua del Chimborazo, South Bolivian Quechua
Other Tower of Babel translations
By language | By language family