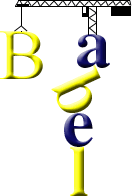 The Tower of Babel (Genesis 11: 1-9)
Sharanahua
Mai ladrillo pushu putsamuinia tocoro cuyacoin masoa ini
Nantia tauyopaonifo nantifi yorafo tsain fustimansi ipaonifo.
Ascashu fari oaiquiri focani mai mispa ano noconifo. Nan mai mispa ahuun anu Sinar ini. Nanno iyopaonifo.
Ascano shafan futsa afo ranan yoinannifo isca huaquin, —Non mai ladrillo huanon. Ascashon mai oiti muran non miintiro muto sharafo inon, —icashu yoinannifo. Ascasho nan toquirifo atamarocon mai mutocoin yafi foi osinifo
Ascashon chipo nantifi yorafo yoinifo, —Fucahuun. Non pushu rasi uhuapa huafain pushu toro cuyacoin masoa nai muran noconon. Non asca huaiton nantifi yorafoan nocohuunoa nicanonfo non ahuamamishti huatiro. Non asca huai maitio pashcananshquima, —ishon yoinifo.
Asca huaifoan oin nocon Ifo Diosin nai murannoashu fotoni nan nocofunufoan pushu rasi huafain pushu toro cuyacoin huaifoan oin.
Ascacun yoiqui isca huani, —Natian nanfo caifo fusti cuscara icani aton tsainri fusti iqui. Ascashon tau huaquin acafo cuscan chipo nan apaiyaifo cuscan ahuamamishti huatirofo. Tsoanshta ato shatumatiroma.
Ascacun non fotonon non aton tsain futsaya huapanon afanan afo ranan nicanonanonfoma, —ishon Diosin yoini.
Asca huatan nocon Ifo Diosin ato mai futsafoanno ato pashcapacuni. Nanscashocai nanfoan afanan Sinar mai ano pushu rasi huanima. Nansca huaquin ununifo.
Nan Sinar mai anoshon Ifo Diosin tsain futsayafo ato huapani maitio afanan nicanonanonfoma. Ascacun nan Sinar ano anu futsaquin, "Babelran," huapaonifo. Nannoshon nocon Ifo Diosin ato maitio pashcapacuni.
Source: Las Sagradas Escrituras en Sharanahua del Perú. La Liga Bíblica, 2008.
Contributed by Wolfgang Kuhl
Sharanahua is a Panoan language spoken in parts of Peru and Brazil by about 450 people.
More information about Sharanahua
http://www.ethnologue.com/language/mcd
http://www.native-languages.org/sharanahua.htm
Tower of Babel in Panoan languages
Cashibo, Kashinawa, Sharanahua, Yaminahua
Other Tower of Babel translations
By language | By language family