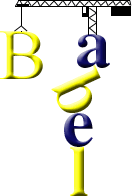 The Tower of Babel (Genesis 11: 1-9)
Sumu (Sumo/Mayangna)
Makau kilwi talnin pāni Babel
Kidika mani balna yak muih bitik laih yulnina aslah manah yuyulwa dai.
Dawak ma kilwa sauni kaupak kalahwi uiwi Sinar sauni yak walang as yayakna, dawak yakat watwi yalalahna.
Mani as kat witingna biri biri yuyulna: "Sau bibilni kau rabutdi dadi kuhkau busdanang." Kaput yamwi kipala yus yayamwadai kidika dadana, dawak di ūk karak banawi kuruhwi yusyayamwadai kidika bik dawi tar yusyayamna.
Kidika usnit aput yuyulna: "Aiwanangkat tawan nuhni as yamdanang, dawak ta kilitna as yamdanang makau kisang kat kilwi kanin praisni kat. Kaput laih mayang adika ma-ayangki nuhni kalna karang, dawak sip pini ruhdi mawaskarang sau pāni bitik yakat."
Kaunah Dawan kaiwi yaklakwi talna tawanni nuhni yayamwa kidika, dawak ta kilitna yayamwa kidika, muih balna,
dawak kulna: "Witingna laih tawan aslah ki, dawak yulnina bik aslah yuyulwi; kaput bahang adika warkni tunan babahna, bahang waralaih sip dadawas karang yayamwa kidika.
Bahang tanit yamni karang malamawi yulnina kidika satuk wirlamukdarang kat, dawak kaput laih witingna biri yulbabauwa kidika sip amanglalawas karang."
Kaput laih Dawan yaklauwi muihni balna kidika sau pāni balna bitik yak pini rawi kiuna kidika, dawak witingna tawan nuhni yayamwa dai kidika dadana.
Kidika pāni yakat Dawan yaklauwi sau muihni balna yulnina bitik satuk wirlamukna, dawak kidika yakaupak sau pini bitik yakat rawi kiuna. Kaput kalahna dai bahang kidika tawanni nuhni ayangni pakna Babel.
Source: Papang Yulni. Biblia Sumo. Bible Society in Nicaragua, 2000.
Contributed by Wolfgang Kuhl
Sumo, or Mayangna, is the collective name for a group of languages belonging to the Misumalpan language family spoken in Nicaragua and Honduras.
More information about Sumo
http://en.wikipedia.org/wiki/Sumo_language
http://www.ethnologue.com/language/yan
Tower of Babel in Misumalpan languages
Other Tower of Babel translations
By language | By language family