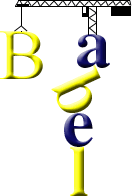 The Tower of Babel (Genesis 11: 1-9)
Tetun-Dili
Uma aas Babél
1. Hori uluk, ema hotu iha mundu nee koalia lian ida deit.
2. Sira balu muda fatin ba iha loro-sae. Too iha rai tetuk ida iha Sinear, sira hela iha nebaa.
3.-4. Sira hotu koalia ba malu dehan, "Maun-alin sira! Mai ita harii sidade boot ida. Ita tenki halo tijolu, i sunu halo forti. Ita hada tijolu sira nee, halo metin ho alkatraun. Depois ita harii uma aas ida, nia tutun too iha lalehan, para ita bele hetan naran boot. Nunee ita sei sai nasaun boot ida, para ita la bele namkari."
5. Depois NAI Maromak tuun mai haree sidade ho uma aas nebee sira halo nee.
6. I Nia hatete, "Ema sira nee hotu rai ida, i uza lian ida. Saida mak sira halo agora nee, foin komesa hakat ida. Aban-bainrua, se sira hotu hamutuk hanesan agora nee, sira hakarak halo buat saida deit, bele.
7. Diak liu Ita tuun baa halo sira nia lian sai keta-ketak tiha, para sira la bele kompriende malu tan."
8. Entaun Nai Maromak tuun para halo rungu-ranga sira nia lian. Ho nunee, Nia halo ema sira nee namkari ba iha fatin hotu-hotu iha mundu nee. I sira la halo tan sidade nee ona.
9. Nee mak sira tau naran ba sidade nee, Babél. (Iha lian Ebreu, nee rona atu hanesan liafuan ida nebee dehan 'konfuzaun'). Tanba NAI Maromak halo konfuzaun tiha sira nia lian, i halo sira namkari ba iha fatin-fatin iha mundu nee.
Source: Hahuu komesa hosi Nai Maromak halo lalehan ho rai (Hahuu (Jénesis)) © 2007 WBTA: http://www.e-alkitab.org
Contributed by Wolfgang Kuhl
Tetun-Dili is a creolized variety of Tetum spoken in Dili, the capital of East Timor.
Information about Tetun-Dili
http://en.wikipedia.org/wiki/Tetun_Dili
http://www.ethnologue.com/language/tdt
Tower of Babel in Pidgins and Creoles
Bislama, Haitian Creole, Hawaiian Pidgin, Kupang, Kriol, Papiamentu, Pijin, Seychelles Creole, Sranan Tongo, Tetun Dili, Tok Pisin, Torres Strait Creole
Other Tower of Babel translations
By language | By language family