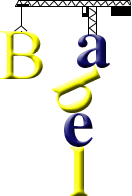 The Tower of Babel (Genesis 11: 1-9)
адыгэбзэ (Adyghe)
Бабилэн плъэпІэ лъагэр
А лъэхъаным чІыгум изэфэдэкІэ зы бзэрэ зы гущыІакІэрэ тетыгъэр.
КъокІыпІэмкІэ къыщежьэхи, цІыфхэм ЩынІар хэгъэгум чІы зэшъхьэзашъо къыщагъоти, ащ тетІысхьагъэх. 3Ахэмэ зэраІожьыгъэ: «Чырбыщхэр ятІэм хэтэжъугъэшІыкІи, машІокІэ тэжъугъэгъэжъэжь». Мыжъомэ ачІыпІэкІэ ахэмэ чырбыщхэр яІэ хъугъэ, етІэфым ычІыпІэкІэ – чІыгум къыхэкІырэ мыстхъур.
ЕтІанэ ахэмэ аІуагъ: «Къалэ зыфэтэжъугъэуцужьи, плъэпІэ лъагэ тетэу ошъогум нэсэу; лъэужынчъэу чІыгум итэкъухьагъэ тыщымыхъузэ, тищытхъу ядгъэІон».
ЕтІанэ цІыфхэм ашІырэ къалэмрэ плъэпІэ лъагэмрэ яплъынэу Зиусхьаныр къехыгъ.
Зиусхьаным къыІуагъ: «Мары мыр зы цІыф лъэпкъ, зэкІэми зы бзэ яІэри. Мыр етІани яІофмэ япэубл ныІэп! Сыд Іоф фежьэхэми, афэукІочІыщт!
Адэжь техынышъ, ахэмэ абзэ зэхэдгъэкІухьан, зым къыІорэр адрэм гурымыІонэу».
Арыти Зиусхьаным ахэр ащ къыщегъэжьагъэу чІыгум зэфэдэкІэ щыритэкъухьагъэх, ащ къыхэкІэу ахэмэ къалэр аухыгъэп.
Ащ къыхэкІэу ащ Бабилэн цІэу фашІыгъ, сыда пІомэ Зиусхьаным чІыгум цІыфмэ абзэхэу тетхэр зэкІэ зэхигъэкІухьэгъэх, ащ къыщиубли, чІыгум изэфэдэкІэ щыритэкъухьагъэх.
Source: Institute for Bible Translation, Moscow, 2005:
http://ibt.org.ru/ru/text.htm?m=ADG&l=Gen.11&g=0
Contributed by Wolfgang Kuhl
Transliteration
Bāvilăn płăṗă łāγăr
Ā łăχ°ānəm č̣əg°m izăfădăč̣̍ă zə bzără zə g°š̍əʾāč̣̍ără tetəġăr.
Qoč̣̍əṗămč̣̍ă qəš̍eẑăxи, c̣əfxăm Š̍ənʾār xăġăg°m čə zăṣḥăāŝo qəš̍āġoti, āš̍ teṭəsḥāġăx.
Āxămă zărāʾoẑəġă: «Č̍ərbəš̍xă jāṭăm xătăẑ°ġăṣ̂əč̣̍i, māṣ̂oč̣̍ă tăẑ°ġăġăẑăž̍». Məẑomă āčəṗăč̣̍ă āxămă č̍ərbəš̍xăr jāʾă χ°ġă, eṭăfəm əčəṗăč̣̍ă – čəg°м qəxăč̣̍əră məstχ°r.
Eṭānă āxămă ā՚°āġ: «Qālă zəfătăẑ°ġăwc°ž̍i, płăṗă łāγă tetăw oŝog°m năsăw; łăwžənčăw čəg°м ităq°ḥāġă təš̍əməχ°ză, tiš̍ətχ° jādġăʾon».
Eṭānă c̣əfxăm āṣ̂əră qālămră płăṗă łāγămră jāpłənăw Ziwsḥānər qexəġ.
Ziwsḥānəm qə՚°āġ: «Mārə mər zə c̣əf łăpq, zăč̣̍ămi zə bză jāʾări. Mər eṭāni jāʾofmă jāpăwbl nəʾăp! Səd ʾof fež̍ăxămi, āfăwč̣̍očəš̍t!
Ādăž̍ texənəŝ, āxămă ābză zăxădġăḳ°ḥān, zəm qəʾorăr ādrăm g°rəməʾonăw».
Ārəti Ziwsḥānəm āxăr āš̍ qəš̍eġăž̍āġăw čəg°m zăfădăč̣̍ă š̍ərităq°ḥāġăx, āš̍ qəxăč̣̍ăw āxămă qālăr āwxəġăp.
Āš̍ qəxăč̣̍ăw āš̍ Bābilăn c̣ăw fāṣ̂əġ, sədā ṗomă Ziwsḥānəm čəg°м c̣əfmă ābzăxăw tetxăr zăč̣̍ă zăxiġăč̣̍°ḥăġăx, āš̍ qəš̍iwbli, čəg°м izăfădăč̣̍ă š̍ərităq°ḥāġăx.
Transliteration by Daniel Parker
Information about Adyghe | Phrases | Numbers | Tower of Babel
Tower of Babel in North West Caucasian languages
Other Tower of Babel translations
By language | By language family
[top]
---

Why not share this page:

If you like this site and find it useful, you can support it by making a donation via PayPal or Patreon, or by contributing in other ways. Omniglot is how I make my living.
Note: all links on this site to Amazon.com
, Amazon.co.uk
and Amazon.fr
are affiliate links. This means I earn a commission if you click on any of them and buy something. So by clicking on these links you can help to support this site.
Get a 30-day Free Trial of Amazon Prime (UK)
If you're looking for home or car insurance in the UK, why not try Policy Expert?
[top]