The Tower of Babel (Genesis 11: 1-9)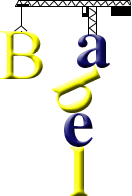 магІарул мацІ (Avar)
Бабилалъул си
Доб заманаялда тІолабго дуниялалда букІана цого мацІ, цого лугъат.
Бакъбаккудасан рачІун, гІадамал щвана ШингІар улкаялъул авлахъазде ва гьенир чІана.
– ХІарщул кирпичал гьарун, бакун цІагун, гьел режила нилъеца, – ян абуна гьез цоцазда. Цинги гьез байбихьана ганчІил бакІалда кирпич хІалтІизабизе, къадае хІарщул бакІалдаги нефталъул пицІ хІалтІизабизе.
– Зодиб цулеб сиги бугеб шагьар бала, – ян абуна гІадамаз. – Гьедин нилъеца машгьурлъизабила нилъерго цІар, ракьалда лъалкІ хутІичІого дуниялалда рикьа‑риххун инчІого рукІине.
БетІергьан гІодове рещтІана, гІадамаз тІаделъун балеб бугеб шагьар ва си бихьизе.
Цинги БетІергьанас абуна: – Халкъ цо буго, киназулго мацІги цо буго. Гьазул ишазул аваллъидалха гьаб. Сунда квер баниги – кинабго бажарулеб буго гьазухъа!
РачІа, гьезухъе ун, нижеца гьезул мацІ хис‑хисизабила, гьел цоцазда ричІчІичІого рукІине!
РачІа, гьезухъе ун, нижеца гьезул мацІ хис‑хисизабила, гьел цоцазда ричІчІичІого рукІине!
(Гьединлъидал гьеб шагьаралда цІарги буго Бабил* – БетІергьанас дуниялалъул киналго гІадамазул мацІ бикь‑бикьун хис‑хисизабуна гьениб ва гьениса гІадамалги ритІана тІолабго ракьалъул батІи‑батІиял бакІазде.)
* «Бабил » ва «хис‑хисизабуна » рагІаби жугьутІ мацІалда релълъарал руго.
Contributed by Wolfgang Kuhl
Transliteration
Babilałul si
Dob zamanayalda t'olabgo duniyalalda buk'ana cogo mac', cogo luǧat.
Baq'bakkudasan rač'un, ʕadamal ššwana Šinʕar ulkayałul awlaqazde wa henir č'ana.
– Ħarššul kirpičal harun, bakun c'agun, hel režila niłeca, – yan abuna hez cocazda. Cingi hez baybixana ganč'il bak'alda kirpič ħalt'izabize, q'adae ħarššul bak'aldagi neftałul pic' ħalt'izabize.
– Zodib culeb sigi bugeb šahar bala, – Yun abuna ʕadamaz. – Hedin niłeca mašhurłizabila niłergo c'ar, rajjalda łalk' xˇut'ič'ogo duniyulalda rijja-rixˇxˇun inč'ogo ruk'ine.
Bet'erhan hodowe reššt'ana, ʕadamaz t'adełun baleb bugeb šahar wa si bixize.
Cingi Bet'erhanas abuna: – Xˇalq' co bugo, kinalzugo mac'gi co bugo. Hazul išazul awalłidalxˇa hab. Sunda kwer banigi – kinabgo bazaruleb bugo hazuqa!
Rač'a, hezuqe un, nizeca hezul mac' xˇis-xˇisizabila, hel cocazda ričč'ič'ogo ruk'ine!
Rač'a, hezuqe un, nizeca hezul mac' xˇis-xˇisizabila, hel cocazda ričč'ič'ogo ruk'ine!
(Hedinłidal heb šaharalda c'argi bugo Babil* – Bet'erhanas duniyulałul kinalgo ʕadamazul mac' bijj-bijjun xˇis-xˇisizabula henib wa henisa ʕadamalgi rit'ana t'olabgo rajjałul bat'i-bat'iyul bak'azde.)
* «Babil » wa «xˇis-xˇisizabula » raʕabi zuhut' mac'alda rełłaral rugo.
Transliteration by Daniel Parker
Information about Avar | Numbers | Tower of Babel
Tower of Babel in North East Caucasian languages
Avar, Chechen, Ingush, Tabassaran
Other Tower of Babel translations
By language | By language family
[top]
---

Why not share this page:

If you like this site and find it useful, you can support it by making a donation via PayPal or Patreon, or by contributing in other ways. Omniglot is how I make my living.
Note: all links on this site to Amazon.com
, Amazon.co.uk
and Amazon.fr
are affiliate links. This means I earn a commission if you click on any of them and buy something. So by clicking on these links you can help to support this site.
Get a 30-day Free Trial of Amazon Prime (UK)
If you're looking for home or car insurance in the UK, why not try Policy Expert?
[top]