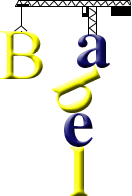 The Tower of Babel (Genesis 11: 1-9)
Бавелан бІов хІоттор
Лаьтта тӀехь массо а адамашна юкъахь буьйцу мотт а цхьаъ бара, цара олуш долу дешнаш а цхьатерра дара.
Малхбалехьара дуьйна доладелла и адам, ШанІар-махкахь шера аре а карийна, цигахь даха охьахиира.
«Дуьло, кибарчигаш а ийна, уьш цӀергахь ягор ю вай», - элира цара вовшашка. Иштта тІулгийн меттана кибарчигаш а, киран меттана силам хилира церан.
Цара элира: «ГІала а, цу чохь стигала а кхочуш бІов а хІоттор ю вай ваьшна, хІокху лаьттахь массанхьахула дІаса ца даржадайта, цІе а йоккхуьйтур ю вай вешан».
Адамаша кхуллуш йолчу гІалане а, бІаьвне а хьажа охьавоьссира Веза Эла.
Везачу Эло элира, царьга а хьаьжна: «И массо адам цхьа халкъ а ду, массара а буьйцуш цхьа мотт бу, ткъа хІун дан буьйлабелла уьш. ХІинца дерриге а шайна дан дага догІург ца далуш дуьсур дац церан.
Дуьло, охьа а диссина, цара буьйцу мотт дІаэбийр бу вай, уьш вовшаша дуьйцучух а ца кхоьтуьйтуш».
ТІаккха Везачу Эло и халкъ массо а лаьттахула дІасадаржийра, цара хІоттош йолу гІала чекх а ца йоккхуьйтуш.
Цу гІаланах цара Бавел-гІала элира (иза ду Іебархойн маттахь «Эбина-гІала»), хІунда альча цигахь Лаьттара массо а къаьмнийн буьйцу мотт Везачу Эло эбина дела. Цигара дуьйна доладелира Везачу Эло хІокху лаьтта тІехь массо а маьІІе адам даржадар.
Source: Товратах а, Инжилах а лаьтташ долу. Делан Йозанаш. Bible in Chechen language, Institute for Bible Translation, Moscow, 2012.
Contributed by Wolfgang Kuhl
Transliteration
Bavelan b'ov Hottor
Lätta theẋ masso a adamaşna uq̇a büycu mott a cẋaẋ bara, cara oluş dolu deşnaş a cẋaterra dara.
Malxbaleẋara düyna doladella i adam, Şanjar-maxkaẋ şera are a kariyna, cigaẋ daxa oẋaxiira.
«Dülo, kibarçigaş a iyna, üş ċergaẋ yagor yu vay», - elira cara vovşaşka. Iştta thulgiyn mettana kibarçigaş a, kiran mettana silam xilira ceran.
Cara elira: «Ġala a, cu çoẋ stigala a khoçuş bjov a hottor yu vay väşna, hokhu lättaẋ massanẋaxula djasa ca darƶadayta, bje a yoqqüytur yu vay veşan».
Adamaşa qulluş yolçu ġalane a, bjävne a ẋaƶa oẋavössira Veza Ela.
Vezaçu Elo elira, car'ga a ẋäƶna: «I masso adam cẋa xalq̇ a du, massara a büycuş cẋa mott bu, tq̇a hun dan büylabella üş. Hinca derrige a şayna dan daga doġurg ca daluş düsur dac ceran.
Dülo, oẋa a issina, cara "büycu mott djaebiyr bu vay, üş vovşaşa düycuçux a ca qötüytuş».
Thaqqa Vezaçu elo и xalq̇ masso a lättaxula djasadarƶiyra, cara hottoş yolu ġala çeq a ca yoqqüytuş.
Cu ġalanax cara Bavel-ġala elira (iza du jebarxoyn mattaẋ «Ebina-ġala»), hunda aljça cigaẋ Lättara masso a q̇emniyn büycu mott Vezaçu elo ebina dela. Cigara düyna doladelira Vezaçu Elo hokhu lätta theẋ masso a mäjje adam darƶadar.
Transliteration by Daniel Parker
Information about Chechen | Phrases | Numbers | Tower of Babel
Tower of Babel in North East Caucasian languages
Avar, Chechen, Ingush, Tabassaran
Other Tower of Babel translations
By language | By language family
---
If you need to type in many different languages, the Q International Keyboard can help. It enables you to type almost any language that uses the Latin, Cyrillic or Greek alphabets, and is free.
If you like this site and find it useful, you can support it by making a donation via PayPal or Patreon, or by contributing in other ways. Omniglot is how I make my living.
Note: all links on this site to Amazon.com
, Amazon.co.uk
and Amazon.fr
are affiliate links. This means I earn a commission if you click on any of them and buy something. So by clicking on these links you can help to support this site.