The Tower of Babel (Genesis 11: 1-9)
Mongolian (монгол)
Mongolian (Traditional alphabet)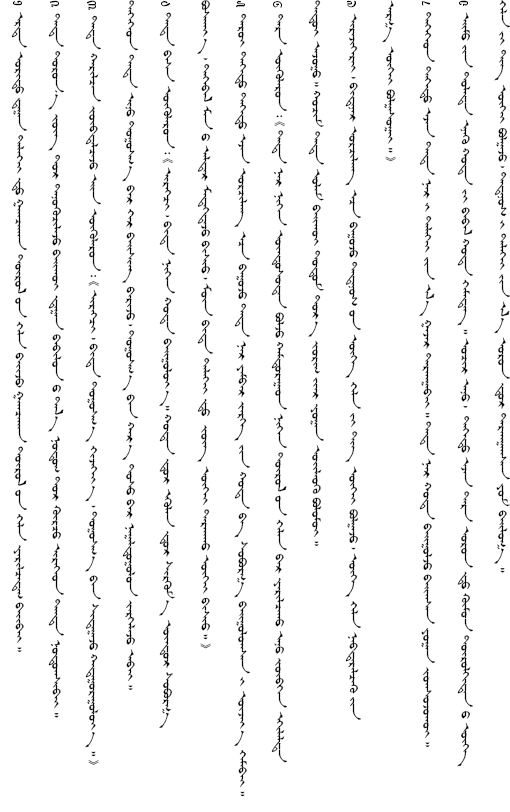 Mongolian (Cyrillic alphabet)
Бүх дэлхий нэг хэлтэй, нэг аялгуутай байлаа.
Тэд дорно зүг уруу нүүж, Шинарын хөндий тал газрыг олж, тэндээ нутагшин суурьшжээ.
Тэд бие биедээ —Тоосго цохиж, түүнийгээ бүрэн гүйцэд болтол нь шатаацгаая гэж хэлээд, чулууны оронд тоосго, шаврын оронд давирхай хэрэглэжээ.
Тэгээд тэд —За, бид хот болон тэнгэрт тулам оройтой өндөр цамхаг барьж байгуулан, нэрээ алдаршуулцгаая. Эс тэгвээс бид бүх дэлхий дээр тарж бутрах болно гэж хэлэлцжээ.
ЭЗЭН хүний хөвгүүдийн барьж байгуулсан хот ба цамхгийг үзэхээр бууж иржээ.
ЭЗЭН айлдсан нь—Эдгээр хүмүүс нэг үндэстэн, бас нэг хэлтэн учир тэд үүнийг хийж эхэлсэн бөгөөд хойшид тэдний хийхээр төлөвлөсөн ямар ч зүйл тэдний хувьд боломжтой болно.
Бид бууцгааж, тэдний хэлийг тэнд нь хутгалдуулан самууруулъя. Ингэснээр тэд бие биенийхээ яриаг ойлгохгүй болно гэжээ.
Тэгээд ЭЗЭН тэднийг тэндээс бүх дэлхийгээр тараасанд тэд хот байгуулахаа зогсоожээ.
ЭЗЭН тэнд бүх газар дэлхийн хэлийг хутгалдуулан самууруулсан учир түүнийг Бабел гэж нэрлэв. ЭЗЭН тэндээс тэднийг бүх дэлхий даяар тараалаа.
Transliteration
Bükh dyelkhii nyeg khyeltyei, nyeg ayalguutai bailaa.
Тyed dorno züg uruu nüüj, Shinarîn khöndii tal gazrîg olj, tyendyeye nutagshin suurĭshjyeye.
Тyed biе biеdyeye —Тoosgo tsokhij, tüüniigyeye büryen güitsyed boltol nĭ shataatsgaaya gyej khyelyeyed, chuluunî orond toosgo, shawrîn orond dawirkhai khyeryeglyejyeye.
Тyegyeyed tyed —Za, bid khot bolon tyengyert tulam oroitoi öndör tsamkhag barĭj baiguulan, nyeryeye aldarshuultsgaaya. Es tyegwyeyes bid bükh dyelkhii dyeyer tarj butrakh bolno gyej khyelyeltsjyeye.
EZEN khünii khöwgüüdiin barĭj baiguulsan khot ba tsamkhgiig üzyekhyeyer buuj irjyeye.
EZEN aildsan nĭ—Edgyeyer khümüüs nyeg ündyestyen, bas nyeg khyeltyen uchir tyed üüniig khiij yekhyelsyen bögööd khoishid tyednii khiikhyeyer tölöwlösön yamar ch züil tyednii khuwĭd bolomjtoi bolno.
Bid buutsgaaj, tyednii khyeliig tyend nĭ khutgalduulan samuuruulıya. Ingyesnyeyer tyed biе biеniikhyeye yariag oilgokhgüi bolno gyejyeye.
Тyegyeyed EZEN tyedniig tyendyeyes bükh dyelkhiigyeyer taraasand tyed khot baiguulakhaa zogsoojyeye.
EZEN tyend bükh gazar dyelkhiin khyeliig khutgalduulan samuuruulsan uchir tüüniig Babеl gyej nyerlyew. EZEN tyendyeyes tyedniig bükh dyelkhii dayaar taraalaa.
Information about Mongolian | Soyombo Script | Mongolian Square Script | Galik Alphabet | Phrases | Numbers | Tower of Babel | Learning materials
Tower of Babel in Mongolic languages
Other Tower of Babel translations
By language | By language family
---
If you need to type in many different languages, the Q International Keyboard can help. It enables you to type almost any language that uses the Latin, Cyrillic or Greek alphabets, and is free.
If you like this site and find it useful, you can support it by making a donation via PayPal or Patreon, or by contributing in other ways. Omniglot is how I make my living.
Note: all links on this site to Amazon.com
, Amazon.co.uk
and Amazon.fr
are affiliate links. This means I earn a commission if you click on any of them and buy something. So by clicking on these links you can help to support this site.