The Tower of Babel (Genesis 11: 1-9)
Pashto (
پښتو

)
د بابل برج
۱. په شروع کښې، د ټولې دُنيا خلقو صِرف يوه ژبه وئيله اؤ د يو بل په خبرو پوهېدل.
۲. چې څنګه دوئ د نَمرخاتۀ غاړې نه روان شول، چې چرته دوئ اوسېدل، نو د بابل په وطن کښې يو هوار مېدان ته راغلل اؤ هلته دېره شول.
۳. دوئ يو بل ته ووئيل، "راځئ! چې خَښتې جوړې کړُو اؤ په اور يې پخې کړُو." نو داسې د دوئ سره د آبادۍ د پاره خَښتې اؤ د دې د نښلولو د پاره تارکول وُو.
۴. نو دوئ ووئيل، "راځئ چې اوس يو ښار اؤ دومره لوئ برج جوړ کړُو چې آسمان ته ورسېږى، نو مُونږ به مشهُور شُو اؤ په ټوله دُنيا کښې به خوارۀ وارۀ هم نۀ شُو."
۵. بيا مالِک خُدائ د ښار اؤ هغه برج کتلو له راکُوز شو چې بنيادمو جوړ کړے وو،
۶. نو هغۀ ووئيل، "وګورئ! دا ټول يو خلق دى اؤ دوئ يوه ژبه وائى، او د دې نه پس چې بيا دوئ څۀ کول هم وغواړى نو کولے به يې شى،
۷. راځئ چې لاندې ورشُو اؤ د دوئ ژبې ګډې وډې کړُو نو د يو بل په خبرو به نۀ پوهېږى."
۸. نو مالِک خُدائ دوئ په ټوله زمکه خوارۀ وارۀ کړل اؤ دوئ ښار جوړول پرېښودل.
۹. نو د هغه ښار نُوم بابل شو، ځکه چې مالِک خُدائ هلته د خلقو ژبه ګډه وډه کړه اؤ د هغه ځائ نه يې په ټوله زمکه خوارۀ وارۀ کړل.
This text as an image: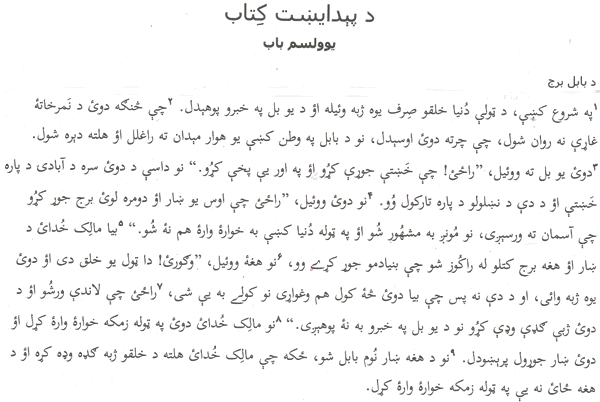 Transliteration
Da Bâbil burǰ
Pa šuruwaʔ kaŝe, da ṭole dunyâ xalqo sirf yoa žaba wəyîla ao da yo bal pa xabro pohedal.
Če canga dwəi da namarxâtə ǧâṛe na rawân šol, če čarta dwəi osedal, no da Bâbil pa watan kaŝe yo hawâr medân ta râǧlal ao halta dera šol.
Dwəi yo bal ta wəyîla, "Rjəi! Če xaŝte ǰoṛe kṛû ao pa awr ye paxe kṛû." No dâse da dwəi sura da əbâdəi da pâra xaŝte ao da de da naŝlolo da pâra târkol wû.
No dwəi wəyîla: "Rjəi če aws yo ŝar ao domra lwəi burǰ ǰoṛ kṛû če əsmân ta warseẑî, no mûnẑ ba mašhûr šû ao pa ṭole dunya kaŝe ba xawârə wârə ham nə šû."
Bya mâlik xudəi da ŝâr ao haǧa burǰ katalo la rakûz šo če banyadmo ǰoṛ kṛe wû,
no haǧə wəyîla, "Wagorəi! dâ ṭol yo xâlq dai ao dwəi yoa žaba wəiy, ao da de na pus če bâya dwəi cə kol ham waǧoṛay no kole ba ye šay,
rjəi če lânde waršû ao da dwəi žabe gaḍe waḍe kṛû no da yo bal pa xabro ba nə poheẑî."
No mâlik xudəi dwəi pa ṭole zamka xawârə wârə kəṛal ao dwəi ŝâr ǰoṛawal praiŝodal.
No da haǧa ŝâr nûm Bâbil šo, jaka če mâlik xudəi halata da xalqo žaba guḍa waḍa kaṛha ao da haǧa jəi na ye pa ṭole zamka xawârə wârə kəṛal.
Source: Pashto Injil. Pashto Tawrat & Prophets (Old Testament)
Text contributed by Wolfgang Kuhl. Transcription and transliteration by Michael Peter Füstumum
---
Information about Pashto | Phrases | Numbers | Tower of Babel | Learing materials
Tower of Babel in Iranian languages
Dari, Kurdish, Persian/Farsi, Ossetian, Pashto, Tajik
Other Tower of Babel translations
By language | By language family
[top]
---

Why not share this page:

If you like this site and find it useful, you can support it by making a donation via PayPal or Patreon, or by contributing in other ways. Omniglot is how I make my living.
Note: all links on this site to Amazon.com
, Amazon.co.uk
and Amazon.fr
are affiliate links. This means I earn a commission if you click on any of them and buy something. So by clicking on these links you can help to support this site.
Get a 30-day Free Trial of Amazon Prime (UK)
If you're looking for home or car insurance in the UK, why not try Policy Expert?
[top]